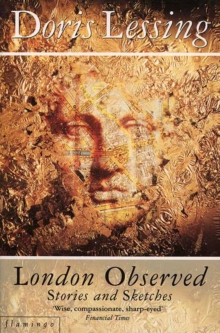 London Observed
Paperback
Description
Across eighteen short stories, Lessing dissects London and its inhabitants with the power for truth and compassion to be expected of the Nobel Prize for Literature 2007.'During that first year in England, I had a vision of London I cannot recall now ... it was a nightmare city that I lived in for a year. Then, one evening, walking across the park, the light welded buildings, trees and scarlet buses into something familiar and beautiful, and I knew myself to be at home.'Lessing's vision of London - a place of nightmares and wonder - underpins this brilliantly multifaceted collection of stories about the city, seen from a cafe table, a hospital bed, the back seat of a taxi, a hospital casualty department; seen, as always, unflinchingly, and compellingly depicted.
Information
Format: Paperback
Pages: 224 pages
Publisher: HarperCollins Publishers
Publication Date: 01/03/1993
ISBN: 9780586092262
Free Home Delivery
on all orders
Pick up orders
from local bookshops
Reviews
Showing 1 - 1 of 1 reviews.
Review by thereshegoes
16/06/2015
I'm very sad to say that this was a big disappointment. I guess I had too high expectations but then again, who can blame me? It's a London-based (one of my big passions) book containing short stories written by a well-known contemporary female Nobel Prize winner. Why yes, I was excited. The first story, 'Debbie and Julie', and the story 'In Defence Of The Underground' are the only stories that I actually enjoyed and the only reason why I'm giving this two stars instead of one. The main reason being the imagery of the first one (a young girl giving birth underneath a shelter with the company of a homeless and hungry dog, on a cold rainy London night) and the description and the praise of the London underground in the latter. I found the rest to be to boring and simple - kind of like listening to mindless chatter on a family reunion or sitting through a tiring lecture. Sure, there was drama, some stories even had a twist, some even made me smile (especially the one at the Casualty department in a hospital because oh, how I've seen that scene so many, many times) and Lessing sure knows her way around beautiful language but it wasn't enough. It didn't deliver. I wanted more. I wanted it to be as if each story in this book was a passionately written love letter to London and its streets, people, bridges, shops, umbrellas, and all that comes with it. Perhaps however this is what Lessing saw. Or perhaps I didn't read it to carefully or maybe I'm just being hopelessly romantic.If you're a people person who likes to observe people in cities; then you will like this. If you want a book where you can feel yourself roaming around the streets in London and observe the buildings around you; then this is not for you.