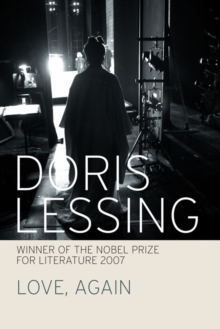 Description
A fierce, compelling account of the nature and origins of love from Doris Lessing, one of the most acclaimed writers of the twentieth century and winner of the Nobel Pize for Literature 2007. Sarah Durham, sixty-year-old producer and founder of a leading fringe theatre company, commissions a play based on the journals of Julie Vairon, a beautiful, wayward nineteenth-century mulatto woman.
It captivates all who come into contact with it, and dramatically changes the lives of all those who take part in it.
For Sarah the changes are profound - she falls in love with two younger men, causing her to relive her own stages of growing up, from immature and infantile with the beautiful and androgynous Bill, to a mature love with Henry.
Information
Format: Paperback
Pages: 352 pages
Publisher: HarperCollins Publishers
Publication Date: 13/09/1996
ISBN: 9780586092286
Free Home Delivery
on all orders
Pick up orders
from local bookshops
Reviews
Showing 1 - 1 of 1 reviews.
Review by TPauSilver
16/06/2015
I think, when it comes down to it, my overriding emotion with this book is disapointment. This book is possible the best ~100 page novel about love I have EVER read. Unfortunatley, it's 340 pages long. When this book is good it is very very good. Infortunatley, in between the good there's a lot of unnecesary babble and irrelivancy and it grated. Every time I picked this book up I had to force myself to do it which is why, as much as I loved this book, I can never really love it. Love, again is possibly one of the best descriptions of love and depression I've ever read. It's nuanced and so achingly longing. The problem was I felt it was a description and not a novel. It was almost like case notes on a love. Of course, the main character is well drawn out, complex. In fact, many of the characters are intense and compelling, it's the connections between them I find week. The dialogue is, frankly, appaling. I get the point that the book is trying to make about how we don't talk to each other and how this is carried in the dialogue but in doing this a lot of character development was simply skipped over. There were also a lot of refrences to literature which, frankly, went over my head and annoyed me. Because I'm simple like that.