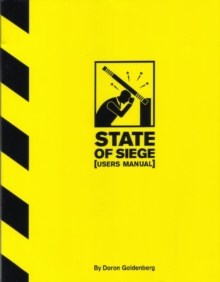 State of Siege : User's Manual
Paperback / softback
Description
The situation the Matzav as it really is. Television audiences might be forgiven for believing that the nightly news presents the whole picture of the Israeli-Palestinian conflict.
The broadcasts are by now familiar. A blown out Israeli bus, charred and smoking. Survivors sitting by the roadside, shocked and bleeding.
Israeli tanks rolling into dusty Arab villages. The words "cycle of violence", "terror", and "retaliation".
See it all in photographs. But how does it feel to be walking down a street, knowing that at any moment, the next explosion might engulf you and those around you?
What is it like to go to work or school on a bus -- in Jerusalem, Tel Aviv or Haifa, hoping it will remain intact for the journey?
This is a unique, controversial, and thought-provoking artistic critique of the situation in Israel today, conceived and created by the young Israeli artist, Doron Goldenberg, a graduate of the Bezalel Art Academy in Jerusalem.
In this powerful work, through the use of both words and images, Goldenberg captures a sense of the impact of terror that can't be broadcast on television. He has also created a visual tool that conveys a mood -- a sensation -- that can't be communicated via a news-commentator.
Published in conjunction with Israel at Heart, a non-profit organisation that seeks to promote a better understanding of Israel and her people.
Information
Format: Paperback / softback
Pages: 224 pages, colour photos
Publisher: Gefen Publishing House
Publication Date: 27/03/2003
Category: Photography & photographs
ISBN: 9789652293107
Free Home Delivery
on all orders
Pick up orders
from local bookshops