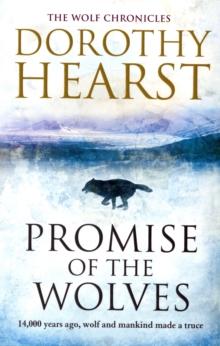 Promise of the Wolves
Paperback
Description
Born of a forbidden, mixed-blood litter and an outcast after her mother is exiled, spirited young she-wolf Kaala is grudgingly permitted to join the Swift River wolf pack where she must fight to prove herself and survive against the odds.
But when Kaala rescues a human child from drowning, she breaks the first and oldest tenet of the promise of the wolves -- never consort with humans-- and sets in train a series of events that threatens the very survival of her species.
As war looms between wolf and humankind, Kaala discovers the truth behind the promise of the wolves: a discovery which could lead to her death and the destruction of all she holds dear.
Set 14,000 years ago in what is now southern Europe, Promise of the Wolvesis the first in a spellbinding trilogy which takes readers on an epic journey into the rich and fascinating world of the wolf.
Information
Format: Paperback
Pages: 368 pages
Publisher: Simon & Schuster Ltd
Publication Date: 04/03/2010
Category: Fantasy
ISBN: 9781847392305
Free Home Delivery
on all orders
Pick up orders
from local bookshops
Reviews
Showing 1 - 1 of 1 reviews.
Review by zjakkelien
16/06/2015
An excellent book. I love wolves to begin with, and am therefore attracted to any fantasy book that has wolf in the title. Not everyone can carry it off, though. Dorothy Hearst can. I think the strength of this book are her characters. Kaala and Ázzuen in particular are easy to love. Her second strength is the bond between the characters. At first the bonds exist only between the wolves. It is heartening to see Kaala and Ázzuen become like siblings. Marra also joins their group, but most of the time she's a bit of a nonentity. Filler, you might say. Later on, the humans get into the mix. The bond between the wolves and the humans almost makes me jealous. Who wouldn't want such a partnership? Combine all of that with mystery and danger, and you end up with Promise of wolves. I'm looking forward to the next book!