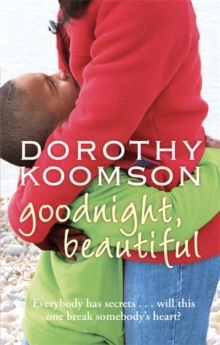 Goodnight, Beautiful
Paperback
Description
Nova Kumalisi would do anything for her closest friend, Mal Wacken.
She owes him her life. So, when he asked her to be the surrogate mother for him and his wife, in spite of her fears about how it would alter their friendship, Nova agreed. Eight years later, Nova is bringing up their son alone, and she and Mal don't speak.
Months into the pregnancy, Mal's wife changed her mind about the surrogacy agreement.
Already suspicious of how close Nova and Mal were, Stephanie realised her strained marriage was in serious trouble when she found a text from her husband to Nova, saying, 'Goodnight, Beautiful'.
She asked Mal to cut all ties with his closest friend and unborn child. Now, seven-year-old Leo is critically ill and Nova, despite her anger and hurt, wants Mal to have the chance to know his son before it's too late.
Will it take a tragedy to remind them how much they mean to each other?
Information
Format: Paperback
Pages: 448 pages
Publisher: Little, Brown Book Group
Publication Date: 07/08/2008
ISBN: 9780751539813
Free Home Delivery
on all orders
Pick up orders
from local bookshops
Reviews
Showing 1 - 1 of 1 reviews.
Review by Marlene-NL
16/06/2015
Wow. What a book. I was really enjoying this story and I think I enjoyed it so much more than maybe others because i did not know what this book was about. Had not read the back so I was very surprised and wondered what had happened.<br/>Thought this was very different than the other books I'd read. Not all sweet and nice. There was one moment though that really pissed me off.<br/><br/>When he did this to her, Mal, and she finally speaks to him, he then asks her to make love? WTH! Totally ridiculous and believable and then shge was even contemplating it? Come one and later they did have sex just to forget the pain for a moment. Sorry that part was stupid.<br/><br/>I did like that it did not have a happy end although i would have loved to see Stephanie go through a bit more abuse from .. and the same for Mal. What they did was disgusting and appalling and here is Nova, just forgiving them? sure. Also that her fmaily does not ask any questions, well only at the start why she and Mal don't speak to each other for 7 years, weird. <br/><br/>great book. This was the second book I'd read by this author. First one was The Chocolate Run and I have Marshmallows for Breakfast on my TBR pile.