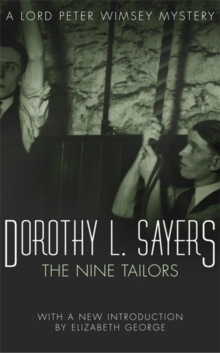 The Nine Tailors
Paperback
Description
A must-read for fans of Agatha Christie's Poirot and Margery Allingham's Campion Mysteries, Lord Peter Wimsey is the immortal amateur sleuth created by Dorothy L Sayers. When his sexton finds a corpse in the wrong grave, the rector of Fenchurch St Paul asks Lord Peter Wimsey to find out who the dead man was and how he came to be there.
The lore of bell-ringing and a brilliantly-evoked village in the remote fens of East Anglia are the unforgettable background to a story of an old unsolved crime and its violent unravelling twenty years later.
Information
Format: Paperback
Pages: 384 pages
Publisher: Hodder & Stoughton General Division
Publication Date: 01/09/1959
Category: Crime & mystery
ISBN: 9780450001000
Other Formats
CD-Audio from £11.75
Paperback from £7.85
eAudiobook MP3 from £8.10
Free Home Delivery
on all orders
Pick up orders
from local bookshops
Reviews
Showing 1 - 5 of 5 reviews.
Review by wrichard
16/06/2015
Bellringing mystery with good technical stuff on bellringing and a good unpredictable plot
Review by wendyrey
16/06/2015
A clever well written Wimsey story - and a short primer in English change bell ringing. Well worth the re-reading
Review by phoebesmum
16/06/2015
We've been having a bit of a Peter Wimsey orgy of late – hey, there are worse ways to spend your time – partly due to getting the boxed set of Ian Carmichael's Wimsey for Christmas, and partly because heck, why not? I went back to this particular title because the Carmichael version devotes the entire first episode to depicting the crime that, whilst being at the heart of the novel, takes place twenty years before. The attempt by the 1970s BBC make-up department to transform Carmichael who, at fiftysomething, was already too old for the role, into a 24-year-old Wimsey on the eve of the Great War really has to be seen to be believed. But I digress.Wimsey and Bunter are stranded in a remote Fenland village in a snowstorm on New Year's Eve. They are rescued by the Rector, who gives them a bed for the night; Wimsey goes some way toward repaying his kindness by standing in for a sick villager to take part in a record-breaking round of bell-ringing. Three months later, the Rector contacts Wimsey in some distress: a disfigured body has been found in the graveyard. Wimsey returns to the village, makes his enquiries, and gets to the heart of the matter – not with entirely happy results or consequences.This is one of Sayers's later Wimseys, and shows her at her full strength as a novelist – and Wimsey at his full strength as a character. That it's a detective story, albeit a far from conventional one, is almost by the way; it's a beautifully detailed portrait of a village community between the Wars, steeped in the mythology of the Church of England, detailed and intricate and unforgettable.
Review by shanaqui
16/06/2015
One of my favourites of the Peter Wimsey books, though I have to say that this time I felt that there was something a bit off about the pacing. It felt a little slow in places, and because the 'murdered' man so patently obviously "deserved" it (i.e. is not a sympathetic sort of character: I'm not a fan of the death penalty or revenge killings or anything like that, but you do feel that he "got what was coming to him") it's difficult to feel any urgency about the investigation, especially because you feel -- as Peter does -- that it'd really be best if it could all just be left alone.<br/><br/>Still, the book really got to me in the sense of the Thodays plight, and basically all the upheaval that one bad man caused, over the years, in a small village. And there's the way that when you realise how Deacon died, you do feel pity for him, even though he was a bad man, because it just seems so awful.<br/><br/>No Harriet in this book, and as far as I remember, not even a mention thereof. There is a good helping of Bunter, though.
Review by pgchuis
27/08/2015
Peter and Bunter end up in Fenchurch St Paul after Peter drives his car into the ditch in a snow storm. Taken in by the Rector and his wife (the delightful Rev and Mrs Venables), Peter is persuaded to take the place of a sick bell-ringer in a planned nine hour marathon bell ringing session. (Is there nothing he cannot do?) Months later he is asked to help the police out with the case of the handless body found in some one else's grave. The whole case unfolds over months and months with a noticeable lack of urgency, although the story ends with a dramatic flooding disaster.Sadly no Harriet, although Hilary seemed to be a teenage version of her. A bit more of Bunter and, indeed, my favourite moment was Bunter claiming Peter to be his flirtatious chauffeur. I made no attempt to understand the intricacies of bell-ringing and it made no difference. I likewise paid little attention to the pages about drainage on the fens, but maybe I ought to have done! This one was just OK for me - none of the characters really called to me and Peter was just a bit more superficial than in others in the series.The story made clear the role played by a conscientious minister and his wife in their parish at the time of writing and I liked the touch about the Thodays feeling obliged to skip communion, but being able to face matins.
Also in the Lord Peter Wimsey Mysteries series | View all