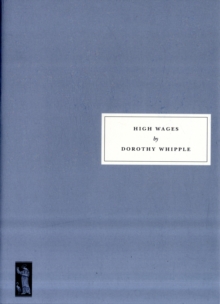 Information
Format: Paperback
Pages: 328 pages
Publisher: Persephone Books Ltd
Publication Date: 22/10/2009
Category: Classic fiction (pre c 1945)
ISBN: 9781903155752
Free Home Delivery
on all orders
Pick up orders
from local bookshops
Reviews
Showing 1 - 5 of 5 reviews.
Review by Kasthu
16/06/2015
Set in the years leading up to and through WWI, this is the tale of Jane Carter, a teenage girl when the story begins, who gets a job as an assistant in a draper's shop in a town. The story takes Jane from the 1910s up through the 1920s, when she opens up her own shop, becoming as she does so much more independent.This is one of Dorothy Whipple's earlier novels, so it's less polished than, say They Were Sister or Someone at a Distance. Still, it's interesting for the way it portrays life in the early 20th century and the difference between the various classes (Jane as a poor girl from Lancashire; Mr. Chadwick, who has aspirations to something more; the wealthy, genteel Greenwoods; and the Briggses, who are self-made). I enjoyed watching how those differences began to break down and how these various characters interact with each other. I loved Mrs. Briggs especially; she's married to one of the wealthiest people in town, but she's still kept her lower-class ways, dropping her aitches and befriending shopgirls. She's eccentric and entertaining, which makes her an engaging character.In addition, I enjoyed watching Jane's development from a slightly shy shopgirl to an independent shopowner, one of the New Women of the early 20th century (but not a feminist). It's truly amazing (albeit somewhat unrealistic) how she eventually gets the better of the Greenwoods in the end, or how she manages to come to the rescue of the Briggses, just in the nick of time (a plot contrivance, if ever I saw one, but I enjoyed it).There may a couple of problems with the plot, but I really enjoyed Dorothy Whipple's character descriptions—she has a way of summing up her characters in just a few sentences. The characters in some of Whipple's later novels tend to be either too good or too bad, but here there's a little more gray area, which I enjoyed. Incidentally, this novel also contains an interesting look at the ways in which fashion changed in the early 20th century—as seen in Jane's willingness to adopt a ready-made department, for example, or using a shop window to advertise goods. The author uses fashion and clothing to describe her characters' personalities and station in life, and they spend a lot of time in this novel obsessing over the little details. I loved how Dorothy Whipple managed to work all of this into the novel in a way that was subtle.
Review by ms.hjelliot
16/06/2015
Dorothy Whipple has done a tremendous job with High Wages in which she portrays Jane, a shop girl, with none of the stereotypes you might expect. Yes, Jane has been orphaned and has to earn her way, but she is intelligent, kind, business minded, and has a way with people breaking all class barriers. A charming story of a woman making her way, and quite a success of it too. Of course love comes into it (several love triangles even) and while it perhaps doesn't turn out quite as you or Jane hope it will, it does turn out in the end.
Review by LyzzyBee
16/06/2015
25 Dec 2009 - from AliDorothy Whipple can do no wrong in my book - I think I've read most of her Persephone reissues and every one has been a delight. This was no exception. We follow a few exciting years in the life of a shopgirl, Jane - but she's no ordinary shopgirl. Starting work in the big town in 1912, she has ideas which are perhaps a little above her station, but all about improving the shop and selling more clothes and haberdashery. But will the stately world of Chadwicks and the company of other shopgirls be enough for her? First, the local poet-librarian shows her a hitherto unexplored world of books, and then a member of the gentry takes an interest in her business plans. Some melodramatic moments, but we all need some of those now and then. I particularly liked the very detailed descriptions of exactly how a shop of that period worked, and the friendship forged across societal boundaries between Jane and the delightful Mrs Briggs. An excellent read which was gulped down during the course of one happy Sunday.
Review by bugs5
16/06/2015
I really enjoyed the book. Jane was a likeable character who ran a dress shop in a small town in England. I enjoyed watching her grow into a great business woman and her observations of small town life.
Review by nordie
16/06/2015
At the beginning of this book, Jane finds herself in her late teens, working in a small time draper's shop. Her father has died before the book starts, leaving Jane living with her step mother and stepsiblings, and Jane is now self aware enough to know that she needs to leave as soon as she can.She gets a new job working in a larger drapers than before, and through her youth and determination brings change and more business to her stuffy old boss. Finally she sets up shop for herself with the financial backing of one of her clients. Again through hard work and determination she makes a success of things which proves to be useful to those closest to her in the end.This seems a fairly straight forward story, but as usual the devil is in the detail. Jane has to face the opposition of men – who cant believe that a woman could be better at business than a man – as well as women – who dont want to be seen mixing with people in "trade". The War also makes an appearance (with the book being written in 1930, this can only really be WWI), changing the lives of many people, including Jane's friend Wilfred, who has always been in love with her and who goes to war when he realises she doesnt love him. Jane also has a brief affair with a married man, and in the end has to make a decision that will affect everyone around her. Meanwhile, despite the prevailing attitude that men are better than women in business, it's the "lord of the manor" who becomes embroiled in a financial crises which reduces his partner to a bankrupt - meanwhile Jane and Mrs Briggs, having set up as a limited company, are not only making a success of the business but Jane will not be putting Mrs Briggs into the same situation as her husband finds herself in. Meanwhile Wilfred remains in the background and it is now that he shows his use to Jane.......