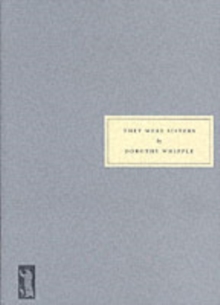 They Were Sisters
Paperback
Information
Format: Paperback
Pages: 464 pages
Publisher: Persephone Books Ltd
Publication Date: 22/03/2005
ISBN: 9781903155462
Free Home Delivery
on all orders
Pick up orders
from local bookshops
Reviews
Showing 1 - 3 of 3 reviews.
Review by Kasthu
16/06/2015
….they were sisters and loved each other, no matter how deeply the circumstances of their lives seemed to divide them." (p. 138).This is the story of three sisters, as different as three people could ever be. Charlotte marries Geoffrey, who's not good enough for her; Vera marries Brian, she she's not good enough for; and Lucy, the eldest of the three Field sisters, marries a man with whom she's completely compatible. They each lie separate lives in separate parts of the country, but what brings them together, as the quote above shows, is their love for one another—and the children, who are visibly affected by the breakdown of two marriages. Happiness—the having or not having of it—is a strong theme in this book.This novel had a strong impact on me. Geoffrey's abusive behavior towards Charlotte never actually descends into the physical; but it's the psychological aspect of it that really chills the reader to the bone (the scene with the dog especially left a bad taste in my mouth about him). It's a textbook abusive relationship, with Charlotte constantly making excuses for her husband, the children cowering in fear of what he will think, say, or do. At the same time, Whipple manages to make her reader see things from Geoffrey's point of view: what it all comes down to is that Geoffrey is an overgrown bully, extraordinarily selfish and unable to see other people be happy. He's insensitive, too; so much so that he actually laughs at Lucy when she expresses concern over Charlotte's drinking and drug-taking. It's interesting how each of his children reacts to him in a different way: one submits meekly, one rebels violently against him and runs away, and the third eventually ends up happy, with a little help from the people who care about her. My only complaint against the book is that Geoffrey doesn't really get what he deserves in the end; but I suppose that the way in which Whipple wrote the story is more realistic, and serves to illustrate how the men have all the power in cases such as these.Vera and Brian's marriage is nearly the exact same as Geoffrey and Charlotte's, except in reverse. Bored with her marriage, Vera turns to other people to cope; she's is just a selfish as Geoffrey was, and it's her selfishness that destroys her marriage and leads her daughter to resent her. One of the big themes of this book is how the behavior of adults impacts children; nowhere is this more true than in the case of Judith and Sarah, who seem adrift with parents who are unfit to raise them. It's not surprising that they should find comfort in one another and in their Aunt Lucy, the most levelheaded and happy of the three older women.Dorothy Whipple's writing style has been described over and over again as "readable;" They Were Sisters is easily one of Whipple's most readable books. The plot takes a back seat to the writing and the character descriptions, which are first rate. This is definitely a book worth thinking about, and one I enjoyed immensely.
Review by MariaAlhambra
16/06/2015
A slightly cliched melodrama that nonetheless makes compulsive reading. It follows the familiar trope of the three sisters and their differing fates. Nevertheless, the book contains some accurate psychological portraits
Review by rose_p
16/06/2015
This was a book club pick - and one of the best discussions (and venues) we've had in a long time. Good pick - and good discussion questions - from Rachel.Lucy, Charlotte and Vera grow up in the early years of the twentieth century. The early part of the book focuses on the bonds between the sisters - including Lucy's mothering role and Charlotte and Vera's closeness (not unlike the Pride and Prejudice girls). Their mother is dead, and father and brothers are almost invisible - until the brothers return from war as rowdy and chaotic as they left. The older brothers are packed off across the Atlantic, the youngest takes on his father's firm and disappears again from the text. Charlotte marries Geoffrey - the loud, charismatic and attention-seeking friend of their brothers. Vera is astoundingly beautiful and marries Brian, who she finds dull and boring, but who really wants to have a good family life and to read aloud to his wife and children. Lucy marries William - he is older and often brusque, but also thoughtful and loves her undemonstratively for herself. This is not a plot-driven book, and the story moves slowly - but it is deeply and compellingly a story about people and relationships.The book invites us to judge the characters - although the narration moves into and out of each character's perspective, the authorial voice provides commentary and invites us to judge too. Lucy is decent, loving and good. She finds a friend and soulmate in her husband, and surrogate children in the nieces she takes in and nurtures. The warmth and love in their relationship is not fizzing and exciting, but shown in affectionate jokes, mutual understanding and small signs of consideration - such as her pleasure in getting home to him, and his remembering a particular book that she wanted. Vera is vapid - vain, self-obsessed and foolish, in some ways she is the character who seems most to reflect the roaring twenties of the book. Brian is well-meaning, indulgent and loving but allows his family to fall apart - his mother drives a wedge between the children and judges Sarah as harshly as Vera, and he splits the family and then abandons Vera and Sarah to start what is probably a better life in America with the governess. Vera has moments of insight and self-awareness, but will not put herself out to intervene in Charlotte's decline or to look after her daughters; and she chooses blindly to chase after Terry in the naive hope that things will work out. Geoffrey is horrid - a cruel and manipulative bully who drives his family apart. Charlotte bears her own culpability - she does not stand up to him, fails to defend her children and her fall into alcoholism ends in a disgusting state. Each of the children has a different response - Margaret's grooming is disturbing, Stephen becomes a ball of controlled rage and then runs away to sea. Judith is the youngest, learns to opt out of the worst and finds a surrogate mother in Lucy.This is a book of its time - although there are echos of the social mores of nineteenth century novels, we see the Great War and the build up to the second world war, and we can observe the slow changes in society in the way that women and men relate to others, and through the portrayal of maids and servants. But it speaks to us now - the misery of these relationships and the difficulties of facing up to them prompted my book group into a big discussion about ourselves and the people we know.