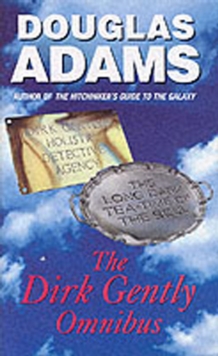 The Dirk Gently Omnibus
Hardback
Description
Two quirky detective stories from Britain's best sci-fi writer and author of The Hitch Hiker's Guide to the Galaxy: Douglas Adams. Dirk Gently is a detective - well, a sort of detective.
There is a long and honourable tradition of great detectives and Dirk Gently does not belong to it.
Dirk Gently calls himself a 'holistic detective' and above all, he believes in 'the interconnectedness of all things'.
Sherlock Holmes observed that once you have eliminated the impossible, then whatever remains, however improbable, must be the truth.
Dirk Gently, however, does not like to eliminate the impossible.
In Dirk Gently's Holistic Detective Agency a simple search for a missing cat reveals two ghosts, a dodo, an Electric Monk, the devastating secret that lies behind the whole of human history and threatens to bring it to a premature close, and, finally, the utterly terrifying reason why Richard MacDuff has had a sofa stuck on his stairs for three weeks.
As The Long Dark Tea-Time of the Soul opens, a passenger check-in desk at Heathrow Airport shoots up through the roof engulfed in a ball of orange flames.
The usual people try to claim responsibility. However, no rational cause can be found for the explosion - it was simply designated an act of God.
But, thinks Dirk Gently, which God? And why? What God would be hanging around Terminal Two of Heathrow Airport trying to catch the 15.37 to Oslo?In these two delightfully odd detective stories, Adams explores once again the realm of the unknown, in the style of science fiction that brought him fame with The Hitch Hiker's Guide to the Galaxy.
Information
Format: Hardback
Pages: 512 pages
Publisher: Cornerstone
Publication Date: 02/08/2001
ISBN: 9780434009190
Free Home Delivery
on all orders
Pick up orders
from local bookshops
Reviews
Showing 1 - 2 of 2 reviews.
Review by catfantastic
16/06/2015
The Dirk Gently series was Douglas Adams' other science fiction series apart from his more famous "The Hitchhiker's Guide to the Galaxy." This edition contains both Dirk Gently novels, "Dirk Gently's Holistic Detective Agency" and "The Long Dark Tea Time of the Soul" in one fat hardcover edition. Although I'm normally not a fan of omnibus editions for novels, since there are only two rather short-ish (about 250 pages) novels in the series, the omnibus works well in this case. And since both books are quite fantastic, you'll want them both, anyways.Dirk Gently's Holistic Detective Agency:It's difficult to sum up this book. Despite being less outrageously insane and more down to Earth - or at least, Earth-centric - than Adams' more famous "The Hitchhiker's Guide to the Galaxy" series, there's still a whole big general mish-mash of things going on here.Let's see - we have the Electric Monk, who is programmed to believe anything, even "things that they'd have difficulty believing in Salt Lake City." There are two ghosts - one human, one not. There's an eccentric old college don. Quantum physics. Samuel Taylor Coleridge. Time travel. A botched alien invasion. A rather amusing bit about a horse in a bathroom. An immovable sofa. And, just for good measure, a dodo. And, of course, on top of all this we have the title character - Dirk Gently. He's a self-proclaimed "Holistic Detective" determined to find the"whole solution" to the "whole problem" mainly through a complex system of detecting and triangulating vectors of interconnectedness of all things. And if this often means tracing them to a beach in the Bahamas all in the name of finding one little old lady's missing cat, then so be it! (Wait till you see the bill for his services!) You might think he's exploiting gullible old ladies, but don't worry - they never actually pay him. Gently is over-the-top, obnoxious, insane and very, very entertaining. It's probably best though, that he's not the viewpoint character of the novel (that role is reserved for a more Everyman-ish computer programmer) but Gently certainly steals the scene whenever he does appear.It must be a testament to Adams' genius that he can take all these disparate events and *really* find an interconnectedness to them to tie the plot together in a satisfying way at the end. If you're a Samuel Taylor Coleridge fan you'll find even more to enjoy in this. Also, of course, the whole thing is absolutely hilarious. If this is you're first time reading anything by Douglas Adams' you'll quickly see that he's got some wonderfully funny turns of phrase and a knack for humorous observations. He's also got a penchant for wonderfully mad characters. All in all this is a greatly enjoyable read. Highly recommended. One of my favorites 5/5The Long Dark Tea Time of the Soul:Has a great title. Has Dirk Gently, who is always enormous fun to read about. Has Norse gods, an out-of-order soft drink machine, an exploded airport terminal, and a dirty fridge.Still completely enjoyable to read, this novel loses something when compared to the first, "Dirk Gently's Holistic Detective Agency" - the conclusion was less satisfying and it seemed to "lose steam" towards the ending. Still a great read, however. Very fun, humorous and entertaining. Also, you know how people are said to only use about ten percent of their brain? Turns out the rest is full of penguins. (4/5)
Review by StuartAston
16/06/2015
In Dirk Gentley's Holistic Detective Agency the end of the world is stopped when Dirk manages to stop a the secret behind the whole of human history coming out and ending the world. But it was close....it meant getting the horse out of a bathroom, searching for the ghost of the murdered IT company owner and why is there a sofa stuck in a stairwell???In The Long Dark Tea-Time of the Soul after a passenger desk at Heathrow is blown up many groups take responsibility. However what if it wasn't blown up but.......attacked by a fireball from an angry god maybe???? If so why do they want to destroy a check in desk. And who is the stranger trying to get to Oslo without money, passport and is really beginning to annoy the people in the queue behind.Not as good as the Hitchhikers Guide to the Galaxy but definately a good giggle!