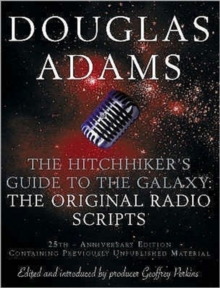 The Hitch Hiker's Guide to the Galaxy : The Original Radio Scripts
Paperback
Description
March 1978 saw the first ever transmission of The Hitchhiker's Guide to the Galaxy on BBC Radio 4; the beginning of a cult phenomenon.
This 25th Anniversary edition of the scriptbook includes a previously unpublished Hitchhiker script, 'Sheila's Ear'; a new introduction by producer Geoffrey Perkins; and a Who's Who of all those involved in the radio series.
As well as all the new material, of course there are the twelve original radio scripts - Hitchhiker as it was written and exactly as it was broadcast for the very first time.
They include amendments and additions made during recordings and original notes on the writing and producing of the series by Adams and Perkins.
For those who have always loved Adams, as well as for his new generation of fans, these scripts are essential reading - with the previously 'lost' script making this edition a must-have piece of Adams memorabilia.
Information
Format: Paperback
Pages: 272 pages
Publisher: Pan Macmillan
Publication Date: 01/03/2003
Category: TV tie-in humour
ISBN: 9780330419574
Free Home Delivery
on all orders
Pick up orders
from local bookshops
Reviews
Showing 1 - 4 of 4 reviews.
Review by rocalisa
16/06/2015
Average Earthman Arthur Dent is rescued at the very last moment before the Earth is destroyed to make way for any intergalactic bypass, but his friend Ford Prefect, who turns out to be "not from Guilford after all, but from a small planet somewhere in the vicinity of Betelgeuse". After facing certain death in open space, they are rescued by Zaphod Beeblebrox, two-headed, three-armed and now the ex-President of the Galaxy since he stole the spaceship Heart of Gold, and his travelling companion Trillian, who Arthur once had a crush on. So begins Arthur's adventures in a galaxy that proves to be more colourful and a much, much weirder than Arthur could ever have imagined. The Hitch-Hiker's novel is the second incarnation of Douglas Adam's story. The first was a BBC radio series and there have been many after it, of which the current big screen movie (which I haven't seen) is the latest. Adams' cult hit seems to be a love-it/hate-it thing for many people, so I'll say right up that I'm in the love-it category. This was an umpteenth time reread and I know it so well (I used to be able to quote the prologue in entirety and used it to get to sleep instead of counting sheep; I'm relieved to say I couldn't do it now) that it was an interesting experience to read. Nothing was a surprise and I found my main response was a contented nostalgia, like visiting favourite childhood haunts and finding them as magical as I remembered. I remember getting into trouble in my third form social studies class for reading the book when I was supposed to be studying. I'd borrowed it from another boy in the class who was a bit geeky and a big fan. I remember visiting Auckland on a trip with Dave, long before something as outrageous as marrying him had entered my mind, and his delight at finding the CDs of the first two radio series in a bookshop. I haven't seen that boy in over twenty years and the bookshop is gone, but I can see both those moments in my memory as clear as a bell (and I'm generally not a visual person at all). Rereading the book didn't just let me revisit the story and characters, but the times in my life when I've read it before. For a silly, fun book, I realise as I write this review, that it has really had a profound effect on me. Not so much for the book itself, enjoyable as it is, but for the other memories it holds.
Review by dsbs
16/06/2015
Contrary to what you might believe, completely different from the books of the same name. New characters, new plots, new excuses to read out-loud in a British accent. In short, lots of fun, definitely recommended to anyone with a sense of humour.
Review by kalanasse
16/06/2015
This book is hilarious! I got my copy signed at his last talk at the University of California at Santa Barbara the month before he passed away. Mine is is the 10th anniversary edition.
Review by MyopicBookworm
16/06/2015
I only heard some of the original episodes (either on the BBC or when repeated on a pirate radio station in London), and having later heard the LP version and read the books, I was surprised at how many sections were nevertheless new to me. Possibly, of course, I was not paying attention last time. The notes about the chaotic recording sessions are entertaining, as bewildered actors are shut into cupboards to record their lines for electronic alteration, and sections of the tape have to be cut out of antiquated machines with scissors. It is interesting how clearly the original show, despite its later iconic status and huge development, started out clearly in the line of evolution from the Goon Show to the slightly batty BBC Radio 4 comedies of the early 21st century.MB 31-xii-2012