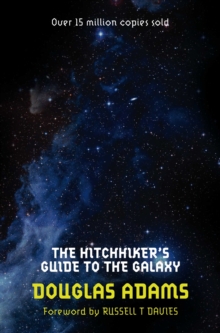 The Hitchhiker's Guide to the Galaxy
Paperback
Description
Thirty years of celebrating the comic genius of Douglas Adams...On 12 October 1979 the most remarkable book ever to come out of the great publishing corporations of Ursa Minor (and Earth) was made available to humanity -- The Hitchhiker's Guide to the Galaxy.
It's an ordinary Thursday lunchtime for Arthur Dent until his house gets demolished.
The Earth follows shortly afterwards to make way for a new hyperspace bypass and his best friend has just announced that he's an alien.
At this moment, they're hurtling through space with nothing but their towels and an innocuous-looking book inscribed with the big, friendly words: DON'T PANIC.
The weekend has only just begun...Volume one in the trilogy of five
Information
Format: Paperback
Pages: 160 pages
Publisher: Pan Macmillan
Publication Date: 01/09/2009
Category: Science fiction
ISBN: 9780330508537
Other Formats
Paperback from £5.95
CD-Audio from £9.95
EPUB from £7.19
Hardback from £8.15
Other digital from £31.59
eAudiobook MP3 from £6.75
Free Home Delivery
on all orders
Pick up orders
from local bookshops
Reviews
Showing 1 - 3 of 3 reviews.
Review by TPauSilver
16/06/2015
Of course, the Hitchikers guide to the galaxy is a wonderful book and it's hard to say anything about it that hasn't already been said. It's witty and it's interesting and utterly charming in how the characters are portrayed and how utterly pointless and happenstance everything is. A truly classic sci-fi comedy book.
Review by zjakkelien
16/06/2015
I re-read this one the last few days. It's been a while, but it's still funny. Couldn't read it in long stretches, though. I guess the story is too incoherent for that...
Review by bubblyair
16/06/2015
This book was such a ride! If anyone knows anything about it, they'd know that this is a supposedly funny adventure novel. But the humour in this book isn't like any other book. It is so immersed in it's sci-fi almost-parody-like world that it's bound to get a chuckle out of everyone. It is more of an adult based humour, not that it's inappropriate but because they are done in a very refreshing way, which is hard to explain more than the fact that the jokes are very much so immersed into the plot.<br/><br/>"Wait, plot? I thought Hitchhiker's was a book that had no plot." Not true, it has quiet a hilarious plot, albeit not one to take seriously. I'll let the summary speak for itself on that account, but I just want to mention that the best parts about this book was that it never took itself too seriously and it always had a jarring comment to make for every occasion. It hilariously and quite wittingly mentions philosophical life discussions, a miserable and overly emotional android, and one amazing answer to the Universe's Ultimate Question.<br/><br/>Overall, one should read this book for a great laugh that'll be remembered for times to come, but certainly don't go into it thinking the plot and climax is what it's all about. 3.5-4/5.<br/><br/>PS. My copy came with a foreword by Russell T. Davies, who is an amazing person for giving such great stories to new episodes of doctor who (basically the 9th and 10th doctor), and I highly recommend it because it definitely gets you hyped up to pick up the series.