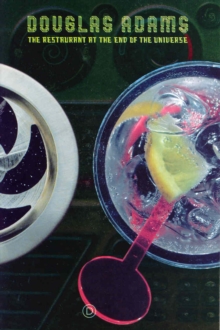 The Restaurant at the End of the Universe
Paperback
Description
When all questions of space, time, matter and the nature of being have been resolved, only one question remains - "Where shall we have dinner?" "The Restaurant at the End of the Universe" provides the ultimate gastronomic experience, and for once there is no morning after to worry about.
This is volume two in the Trilogy of five.
Information
Format: Paperback
Pages: 208 pages
Publisher: Pan Macmillan
Publication Date: 08/03/2002
Category: Science fiction
ISBN: 9780330491211
Other Formats
EPUB from £7.19
Paperback from £6.65
Hardback from £9.85
Free Home Delivery
on all orders
Pick up orders
from local bookshops
Reviews
Showing 1 - 5 of 5 reviews.
Review by lorelorn_2008
16/06/2015
Reading the second Hitchhikers book leads me to a conclusion - Douglas Adams is the master of the anti-climax. Climactic events are something he goes out of his way to avoid. If they have to happen, then everyone just ignores it anyway, or orders another round of drinks... Reading the second Hitchhikers book leads me to a conclusion - Douglas Adams is the master of the anti-climax. Climactic events are something he goes out of his way to avoid. If they have to happen, then everyone just ignores it anyway, or orders another round of drinks.
Review by ariebonn
16/06/2015
I took my time to start the second book in The Hitchhiker's Guide to the Galaxy series but I enjoy these books so much that I want to space them out so that I know I have the next one to look forward to! Makes sense?I found that in this book things start to make a bit more sense and you discover that there was actually a reason why Zaphod Beeblebrox stole the Heart of Gold, although you don't find that out from him. The Frogstar Fighters are out to get him and this leads to a series of adventures for Zaphod, Ford, Arthur and Trillian. Oh yeah and Marvin too, who is as depressing as ever but is still there to save the day.The Restaurant at the End of the Universe is just as amusing and fun as the first one in the series, some of the comparisons that Adams makes are just hilarious. The description of the Vogons in the beginning is too funny and really had me laughing out loud, I had to go back to it a few times just to read it over again. What I like most about these books however is that I never know what is going to happen next, you just don't know what to expect!The ending left me curious as to what happened to some of the characters and now I can't wait to get to the next book!
Review by catfantastic
16/06/2015
The sequel to the famed _Hitchhiker's Guide to the Galaxy_, in some respects I loved _Restaurant at the End of the Universe_ even more than it's predecessor, although both make the list of my all-time favourite books. Adam's hilarious narration makes these books a pure delight to read, they are full of comparisons, non-sequiturs and dialogue that will make you laugh. The plot is fast-paced, full of zany action and completely unpredictable turns. There's no telling where anyone (or anything!) will end up, but you're sure to laugh a lot on the way._Restaurant_ opens with an interstellar chase as the Vogons attempt to destroy the last of planet Earth - namely the last two human beings, Arthur Dent and Trillian. Arthur escaped the destruction of Earth via his friend Ford Prefect, an alien hitchhiker conducting field research for the _Hitchhiker's Guide to the Galaxy_, and Trillian had left the planet six months before that with the charismatic Zaphod Beeblebrox, the then President of the Galaxy. Arthur, your typical Englishman, manages to freeze up all their ship's computers by requesting it to make tea for him, just before the Vogons launch their attack. This is bad (for Arthur, not the Vogons) and leads to an impromptu seance. ("Possibly the horror that Zaphod experienced at the prospect of being reunited with his deceased relatives led on to the thought that they might just feel the same way about him and, what's more, be able to do something about helping to postpone this reunion." - p.13)The first half of the book focuses on Zaphod, and as he is an entertainingly charismatic, ego-filled hipster this is by no means a bad thing. Zaphod finally learns why he mutilated parts of his own brains (as was revealed in the previous book) and ends up on a quest, of sorts, though not because he wants to be. Marvin the Paranoid Android tags along with him and his hilariously depressing (yes, you read that correctly.) In the second half of the book Arthur and Ford find themselves on a starship that appears to have a lot of dead hairdressers and telephone sanitizers stuffed in the cargo holds. When they get captured by the starship's security personnel it leads to some of the most hilarious dialogue between an overzealous guard, a very laid back captain (who in fact never even gets out of the bath) and a very confused Arthur Dent. There's so much more I could say about this book, there are so many funny bits I would love to describe - from the restaurant of the title, to the ruler of the universe - but I don't want to give it all away, so I will wrap this up now by simply telling you to read this book. If you have any sense of humour at all you will love it. 5/5
Review by fothpaul
16/06/2015
Unsurprisingly a very similar book to the first in the trilogy. In my opinion though not quite as good. I still enjoyed the humour and the characters but found my attention wandering a couple of times during the middle of the book. I will of course try and finish the series, but I think the first book may have been the pinnacle.
Review by charlottejones952
16/06/2015
This was a really good sequel following the first. My version had a few typos but I really enjoyed it overall.