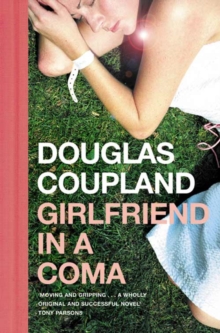 Girlfriend in a Coma
Paperback
Description
Girls, memory, parenting, millennial fear - all served Coupland-style.Karen, an attractive, popular student, goes into a coma one night in 1979.
Whilst in it, she gives birth to a healthy baby daughter; once out of it, a mere eighteen years later, she finds herself, Rip van Winkle-like, a middle-aged mother whose friends have all gone through all the normal marital, social and political traumas and back again...This tragicomedy shows Coupland in his most mature form yet, writing with all his customary powers of acute observation, but turning his attention away from the surface of modern life to the dynamics of modern relationships, but doing so with all the sly wit and weird accuracy we expect of the soothsaying author of Generation X, Shampoo Planet, Life After God, Microserfs and Polaroids from the Dead.
Information
Format: Paperback
Pages: 288 pages
Publisher: HarperCollins Publishers
Publication Date: 30/07/1998
ISBN: 9780006551270
Free Home Delivery
on all orders
Pick up orders
from local bookshops
Reviews
Showing 1 - 3 of 3 reviews.
Review by soylentgreen23
16/06/2015
This is the book that did it for me - that made we want to not read Coupland anymore. I'd loved "Generation X" and "Microserfs" - both of which felt so compellingly powerful and <i>true</i>. Now they feel cheaper because "Girlfriend" is so much in awe of them.It's a silly story, a kind of moral fantasy, and it makes the reader work to hard to sympathise with its broken-soul characters. It was tiring; even the fantastical, when everyone falls down and sleeps and dies, save for a select few; once the initial shock and excitement is gone, all that remains is the rest of the book to slog through, to a sub-"Angel" ending.
Review by AdonisGuilfoyle
16/06/2015
Despite having neglected my copy of this novel for years, I really love Douglas Coupland. He has a wry humour and cutting observational style that I can appreciate, even though I was born about ten years too late and in the wrong country to understand a lot of his generational commentary. That said, the self-obsessed 1990s angsting and existential blather dragged the story down for me. Karen's astute criticism of modern life, upon waking up from a seventeen year coma, is spot on - 'There's a <i>hardness</i> I'm seeing in modern people. Those little moments of goofiness that used to make the day pass seem to have gone. Life's so serious now' - but Coupland takes that theme a tad too far, via Stephen King-esque apocalypse and guardian angels who can work miracles. The extraordinary circumstances of Karen's recovery were pushed over into heavy-handed symbolism, and my suspension of disbelief started to groan with the strain, I must admit. Still, a cracking read, managing to evince both the 1970s (I'm guessing) and the 1990s (via the <i>X-Files</i>, which is the first thing I associate with BC and Vancouver!)
Review by rimbo90
23/09/2015
I cannot stress this enough. I think this is the worst book I have ever read. I picked it up on the strength of glowing appraisals on the blurb, along the lines of "Coupland does it again. He may not give the answers, but asks the questions of our purpose" etc. Glowing indeed.It held quite a lot of promise in the first part. And then the story becomes so convoluted I just lost interest. I try to finish every book where possible but this got drastically worse and led to a terrible ending. I put it down feeling thoroughly dissatisfied.And it's a shame, because Coupland can write. But the storyline in this was really poor in my opinion.