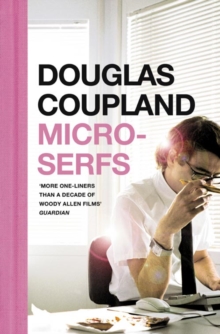 Description
From the acclaimed author of Hey Nostradamus! comes a wonderful comic novel with `more one-liners than a decade of Woody Allen films' (Guardian), about the scramble for love and success in a brave new world... Bill is wise.Bill is kind.Bill is benevolent.Bill, Be My Friend...
Please! At computer giant Microsoft, Dan, Susan, Abe, Todd and Bug are struggling to get a life.
The job may be super cool, the pay may be astronomical, but they're heading nowhere, and however hard they work, however many shares they earn, they're never going to be as rich as Bill. And besides, with all the hours they're putting in, their best relationships are on e-mail.
Something's got to give...
Information
Format: Paperback
Pages: 384 pages
Publisher: HarperCollins Publishers
Publication Date: 15/03/2004
ISBN: 9780007179817
Free Home Delivery
on all orders
Pick up orders
from local bookshops
Reviews
Showing 1 - 3 of 3 reviews.
Review by alandavey
16/06/2015
I love this book. I worked in computing for some years and have friends who do so still, and this crazy world is not so far from reality. One of the few books I can read several times with enjoyment.
Review by LizzySiddal
16/06/2015
There are dangers working backwards through an author's catalogue – you may just discover a turkey, and this was one tough bird. The blurb "More one lines than a Woody Allen film" is true and the first half of the novel about computer geeks is quite refreshingly amusing. But the magic fades and the second half of the novel is just plain hard work. I had to reduce myself to 10-page batches to get to the end.If you want to read a piece of social history concerning vacuity in Silicon Valley during the 90's, and a prophecy regarding the technocrash of the early naughties, read this. On the other hand, if you want to read a good Coupland novel, read Hey Nostradamus! It's a masterpiece.
Review by LDVoorberg
16/06/2015
It's a strange time to read a book like this. When it came out it would have been very current regarding technology and computers and even other cultural details like the GAP. Now it's practically retro, almost like an old 80s movie. "How geeky we all were then." And yet it still has a futuristic, almost dystopic feel. Yet read this book in 20 or 30 or more years from now, and it will be an excellent historical fiction depicting this lifestyle in a profound way. It's a great commentary on consumerism, technology, social units... <br/>Bound to be a classic.