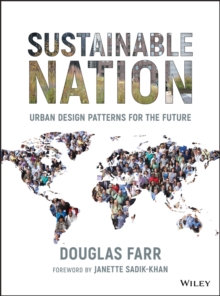 Sustainable Nation : Urban Design Patterns for the Future
Hardback
Description
The bestselling guide to forward-looking urban planning and design Sustainable Urbanism explores and celebrates innovation in sustainable living, and calls for leadership in the design and development of urban spaces.
Written by the former chair of the U.S. Green Building Council's LEED for Neighborhood Development (LEED-ND) Core Committee, this book provides a comprehensive introduction to sustainability in urban planning while emphasizing the urgency of need.
This updated second edition is fully aligned with LEED-ND, the CNU's 2030 Communities Campaign for low-carbon neighborhoods, Obama administration sustainability initiatives, and the Kyoto Treaty's 80 percent CO2 decrease by 2050, and includes new case studies that reflect emerging trends and technologies while providing further validation of the presented practices based on the author's own projects.
Contributions by leading authorities on urban planning, design, and architecture include discussion on density, transportation, accessibility, high-performance buildings, walkability, and more, including detailed coverage of the health and environmental benefits of sustainable urban spaces. Sustainable living is increasingly gaining ground as the urgency of the environmental situation moves from speculation into reality.
This book describes how urban planning with an eye toward impact can improve both the health of the planet and the lives of its occupants. * Facilitate sustainable living through forward-looking design * Integrate transportation with land use, and localize utilities * Design walkable neighborhoods, car-free areas, and universal accessibility * Discover the individual and global benefits of linking humans to nature The surge of regulatory, strategic, and public attention to sustainability issues has pushed innovation and development ahead at a frenetic pace; possibilities are expanding almost as quickly as our collective yearning for something better.
With the latest facts, best practices, and forward-thinking concepts, Sustainable Urbanism is an essential resource for those who design the places we live, work, and play.
Information
Format: Hardback
Pages: 400 pages
Publisher: John Wiley and Sons Ltd
Publication Date: 21/03/2018
ISBN: 9780470537176
Other Formats
EPUB from £66.30
PDF from £66.30
Free Home Delivery
on all orders
Pick up orders
from local bookshops