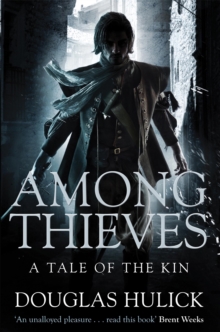 Among Thieves : A Tale of the Kin
Paperback
Description
There is no honour among thieves ...Ildrecca is a dangerous city, if you don't know what you're doing.
It takes a canny hand and a wary eye to run these streets and survive.
Fortunately, Drothe has both. He has been a member of the Kin for years, rubbing elbows with thieves and murderers from the dirtiest of alleys to the finest of neighbourhoods.
Working for a crime lord, he finds and takes care of trouble inside his boss's organization - whilse smuggling relics on the side.
But when his boss orders Drothe to track down whoever is leaning on his organization's people, he stumbles upon a much bigger mystery.
There's a book, a relic any number of deadly people seem to be looking for - a book that just might bring down emperors and shatter the criminal underworld.
A book now conveniently in Drothe's hands ...
Information
Format: Paperback
Pages: 384 pages
Publisher: Pan Macmillan
Publication Date: 01/04/2011
Category: Fantasy
ISBN: 9780330536202
Free Home Delivery
on all orders
Pick up orders
from local bookshops
Reviews
Showing 1 - 2 of 2 reviews.
Review by JR.Raluces
16/06/2015
Another debut novel, and another interesting & entertaining book that will leave you salivating to read the sequel (once it comes out!). Dougles Hulick delivers a sharp, witty, fast paced fantasy novel based upon the criminal fraternity of a city, the dark underbelly of society. The main character Drothe is an informant, known commonly as a Nose in the book, who is cunning, quick witted, capable and intelligent. He lies, steals, cheats and kills as he feels he needs to, however, mixed with these ruthless characteristics are a sense of honour, and a care for others other than just himself. This, along with the 1st person narrative the book is told in, makes Drothe a very likeable character, a hero in some instances, despite being a major player in the criminal world. There is a shadowy war being fought out, that Drothe soon finds himself caught up in the middle of whilst performing tasks for his boss. He has to use all his skill, contacts, wits and stregths to to stay alive and accomplish what he needs to. The book is filled with mystery, intrigue and plenty of twists that will keep you hooked from start to finish. The fight scenes are extremely well written, due I assume to Hulick's background in the 17th Century Italian Rapier combat arts. There are a wealth of characters within the book, from all backgrounds and all different memebers of the kin, however, this is where I feel the book slightly lets itself down (if at all). In that these characters are not explored upon, not enough depth or context are provided for some, and this potential for development of these characters is massive, and one I'm hoping will be included as the series continues. Although ultimately, the story is about Drothe, a character you can't help but like. He reminds me in some ways of Jimmy the Hand from the Raymond E Feist novels set after MAgician, and the character and book also has similarities to The Lies of Locke Lamora (a favourite of mine) by Scott Lynch. A dark fanatasy about the criminal underbelly of a city about thieves - I was always going to enjoy this, and most certainly did. Highly recommmend! Looking forward to the next one !
Review by wyvernfriend
16/06/2015
Not a bad read, but it didn't blow me away.To be honest the opening torture scene almost put me off reading it at all (which was not helped by being a little loopy with a chest infection, antibiotics and painkillers!), and I started it a few weeks before going back and trying again. I'm glad I did but while I might read the sequel(s) I'm not rushing out to find them.Drothe works for the underworld for years as an investigator or Nose, his skills are extensive in this and he has a solid reputation for getting the job done. As he looks into one mystery he finds another and this other might just get him killed because it drags him into Imperial politics and magic.It just didn't flow for me, and by the end I didn't much care if the main character lived or died, I didn't feel a build of empathy for him that I'd expect in a first person book. Still worth getting past the first 50 pages to get to the end.
Also by Douglas Hulick