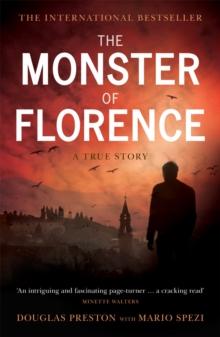 The Monster of Florence
Paperback
Description
The Monster of Florence, which was shortlisted for the prestigious CWA Gold Dagger Award for Non Fiction in 2010, is a true account of brutal serial murder in idyllic Florence.
After settling in Italy in 2000, Douglas Preston discovered that the olive grove in front of his family's new home had been the scene of one of the most infamous double-murders in Italian history, committed by a serial killer who had never been found and was known only as the Monster of Florence.
Preston, intrigued, met Italian journalist Mario Spezi, who had followed the case since the first murders in 1974, to learn more.
This is the true story of their search for - and identification of - the man they believe committed the crimes, and their chilling interview with him.
It's also the story of how Preston and Spezi themselves became embroiled in the case.
Like one of Preston's bestselling thrillers, The Monster of Florence tells a gripping and harrowing story of murder, mutilation, suspicion and ruined lives - and at the centre of it, two brave writers trying to uncover the truth at all costs.
This latest edition includes an explosive afterword about the much-publicised murder of a British student, Meredith Kercher, and its connection to the monster case.
Information
Format: Paperback
Pages: 448 pages, 1 x 8 mono
Publisher: Ebury Publishing
Publication Date: 01/05/2009
Category: True crime
ISBN: 9780753517048
Other Formats
Hardback from £11.25
EPUB from £7.49
Free Home Delivery
on all orders
Pick up orders
from local bookshops
Reviews
Showing 1 - 2 of 2 reviews.
Review by Opinionated
16/06/2015
There are really two books here. Book 1 works well - a summary of the crimes of the monster, the public reaction and hysteria, the police hunt, likely suspects considered, arrested and discounted, and the authors' own opinion as to who the likely perpetrator is. And their suspicions, although based on circumstantial evidence and the somewhat dubious art of psychological profiling, seem well founded and at least worthy of an investigation that is yet to occur. This is definitely not "Queen Victoria was Jack The Ripper" stuff - its better founded than that. So far so good. Book 2 is less successful, as it deals with the labyrinthine and arcane workings of the Italian legal system. The authors - Spezi in particular - fall foul of the prosecuting magistrate, mainly because he keeps making him look foolish in the press, and find themselves part of the investigation. Spezi is arrested for obstruction of justice - contrary to the books' blurb he is not accused of being the monster - and Preston finds himself under investigation and advised not to return to Italy. The problem with this book is that Preston just doesn't understand the Italian justice system and therefore his commentary takes on the tone of the naive innocent abroad "Gee whiz guys, this isn't fair, don't you know I'm American?" The Italian system may have many faults and rightly or wrongly may be difficult for an outsider to navigate, but it does not run purely on incompetence, malice and corruption as suggested here. For sure the power of influence is important and its frustrating for Preston that he doesn't have any ("But I'm American!") but it deserves more considered commentary than this. It isnt' Kafka's The Trial, whatever Preston may suggest. None the less there are important lessons here for foreigners who find themselves in trouble in Italy. Those associated with Amanda Knox in particular would have been well advised to read this; particularly as it was the same magistrate, a man seemingly obsessed - as The Monster of Florence makes clear - with satanic ritual.
Review by PolymathicMonkey
16/06/2015
This was an incredible, and horrifying (though not for the reasons you may suspect) book! Author Douglas Preston loves Italy and moves his family there, where he has decided on the course for his next book - which will take place in Florence. Once there he meets up with journalist Mario Spezi for some background research on how the police and carabinieri work, only to be regaled by and dragged into the story of the Monster of Florence. Utterly convoluted suspect lists and wild crazy conspiracy theories abound while Preston and Spezi try to find the truth in all this mess and uncover the real Monster. I have to admit, a certain Italian higher-up in all this has infuriated me and I cannot remotely understand why he is still working and ruining lives. But the book was fabulous, suspenseful and full of hard truths, can't get much better!