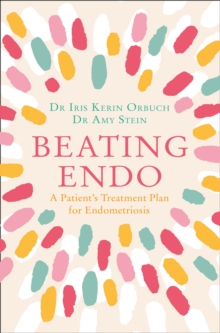 Beating Endo : A Patient's Treatment Plan for Endometriosis
Paperback / softback
Description
This empowering book provides the prescription by which women afflicted with endometriosis can reclaim their lives.
Written by a surgeon and physical therapist who have treated women of all ages and helped them reclaim their lives. Endometriosisis an inflammatory response that results when tissue is found outside the uterus, thereby initiating a disease process and an array of maladies accrue.
Dr Iris Orbuch. is a surgeon and Amy Stein,a physical therapist, have seen endo's harm and agony up close and personal and they have created this self-care guide for women about how to deal with their endometriosis in order to:1) Avoid surgery (if at all possible),2) What to do before surgery (should they absolutely need it); and how3) To live and what to do post-surgery - so that the women afflicted by this disease, can reclaim their lives. Dr. Orbuch and Amy Stein have called upon those they call the endometriosis "warriors" - specialists in a range of practices with whom they routinely share knowledge and insights into what works for the women they care for.
This is a multi-disciplinary holistic plan full of practices women can use to repair their bodies and lives.
Information
Format: Paperback / softback
Pages: 320 pages
Publisher: HarperCollins Publishers
Publication Date: 27/06/2019
Category: Women's health
ISBN: 9780008305529
Free Home Delivery
on all orders
Pick up orders
from local bookshops
Also by Dr Iris Kerin Orbuch