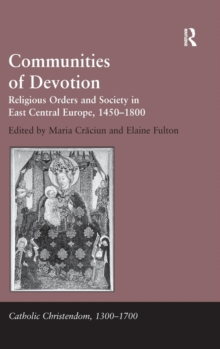 Communities of Devotion : Religious Orders and Society in East Central Europe, 1450-1800
Hardback
Description
Between the later middle ages and the eighteenth century, religious orders were in the vanguard of reform movements within the Christian church.
Recent scholarship on medieval Europe has emphasised how mendicants exercised a significant influence on the religiosity of the laity by actually shaping their spirituality and piety.
In a similar way for the early modern period, religious orders have been credited with disseminating Tridentine reform, training new clergy, gaining new converts and bringing those who had strayed back into the fold.
Much about this process, however, still remains unknown, particularly with regards to east central Europe. Exploring the complex relationship between western monasticism and lay society in east central Europe across a broad chronological timeframe, this collection provides a re-examination of the level and nature of interaction between members of religious orders and the communities around them.
That the studies in this collection are all located in east central Europe - Transylvania, Hungary, Austria, and Bohemia- fulfils a second key aim of the volume: the examination of clerical and lay piety in a region of Europe almost entirely ignored by western scholarship. As such the volume provides an important addition to current scholarship, showcasing fresh research on a subject and region on which little has been published in English.
The volume further contributes to the reintegration of eastern and western European history, expanding the existing parameters of scholarly discourse into late medieval and early modern religious practice and piety.
Information
Format: Hardback
Pages: 302 pages
Publisher: Taylor & Francis Ltd
Publication Date: 28/07/2011
Category: Humamities
ISBN: 9780754663126