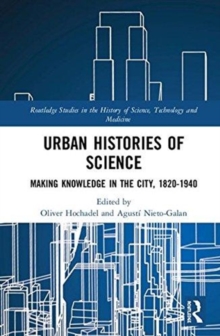 Urban Histories of Science : Making Knowledge in the City, 1820-1940
Hardback
Description
This book tells ten urban histories of science from nine cities-Athens, Barcelona, Budapest, Buenos Aires, Dublin (2 articles), Glasgow, Helsinki, Lisbon, and Naples-situated on the geographical margins of Europe and beyond.
Ranging from the mid-nineteenth to the early twentieth centuries, the contents of this volume debate why and how we should study the scientific culture of cities, often considered "peripheral" in terms of their production of knowledge.
How were scientific practices, debates and innovations intertwined with the highly dynamic urban space around 1900?
The authors analyze zoological gardens, research stations, observatories, and international exhibitions, along with hospitals, newspapers, backstreets, and private homes while also stressing the importance of concrete urban spaces for the production and appropriation of knowledge.
They uncover the diversity of actors and urban publics ranging from engineers, scientists, architects, and physicians to journalists, tuberculosis patients, and fishermen.
Looking at these nine cities around 1900 is like glancing at a prism that produces different and even conflicting notions of modernity.
In their totality, the ten case studies help to overcome an outdated centre-periphery model.
This volume is, thus, able to address far more intriguing historiographical questions.
How do science, technology, and medicine shape the debates about modernity and national identity in the urban space?
To what degree do cities and the heterogeneous elements they contain have agency?
These urban histories show that science and the city are consistently and continuously co-constructing each other.
Information
Format: Hardback
Pages: 238 pages, 25 Halftones, black and white
Publisher: Taylor & Francis Ltd
Publication Date: 26/09/2018
ISBN: 9780415784177