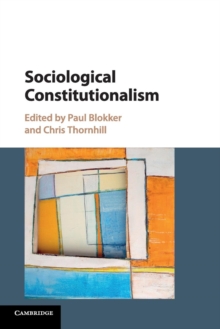 Sociological Constitutionalism
Paperback / softback
Description
This landmark book provides the first systematic overview of the key scholarly contributions in an emerging field of research on constitutionalism: the sociology of constitutions.
It presents chapters offering very different normative and methodological approaches to constitutions, ranging from analysis of national constitutional law, to research on transnational legal forms, to discussions of the constitutional impact of international human rights law.
The book makes an important contribution to a series of wider debates - spanning constitutional law, legal theory, comparative constitutionalism, sociology, and political science - about the changing nature of constitutionalism.
Researchers and students in constitutional law will gain a comprehensive appreciation of a diverse range of distinctively sociological approaches to constitutional law and an in-depth understanding of distinctive sociological dimensions of constitutions.
The book offers insights into the sources of constitutional normativity in society and it proposes different sociological methods for addressing them.
Information
Format: Paperback / softback
Pages: 367 pages
Publisher: Cambridge University Press
Publication Date: 06/12/2018
Category: International human rights law
ISBN: 9781107561144