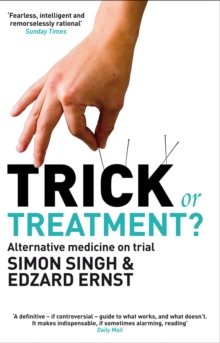 Trick or Treatment? : Alternative Medicine on Trial
Paperback
Description
Welcome to the world of alternative medicine. Prince Charles is a staunch defender and millions of people swear by it; most UK doctors consider it to be little more than superstition and a waste of money.
But how do you know which treatments really heal and which are potentially harmful?Now at last you can find out, thanks to the formidable partnership of Professor Edzard Ernst and Simon Singh.
Edzard Ernst is the world's first professor of complementary medicine, based at Exeter University, where he has spent over a decade analysing meticulously the evidence for and against alternative therapies.He is supported in his findings by Simon Singh, the well-known and highly respected science writer of several international bestsellers. Together they have written the definitive book on the subject.
It is honest, impartial but hard-hitting, and provides a thorough examination and judgement of more than thirty of the most popular treatments, such as acupuncture, homeopathy, aromatherapy, reflexology, chiropractic and herbal medicine.In Trick or Treatment? the ultimate verdict on alternative medicine is delivered for the first time with clarity, scientific rigour and absolute authority.
Information
Format: Paperback
Pages: 416 pages, Pix throughout, black and white photos and line drawings
Publisher: Transworld Publishers Ltd
Publication Date: 07/05/2009
Category: Popular science
ISBN: 9780552157629
Free Home Delivery
on all orders
Pick up orders
from local bookshops
Reviews
Showing 1 - 2 of 2 reviews.
Review by literarytiger
16/06/2015
A balanced, critical look at the alternative medicine industry and an exploration of the science behind it. Edzard Ernst was, for many years, Professor of Alternative Medicine at Exeter University so has a deeper knowledge of alternative medicine that most people. It is the combination of his skills, Simon Singh's critical and investigative analysis and very accessible writing that make this book a must read for everyone. It doesn't seek to debunk - it seeks to give the truth about what so many people spend their money on.
Review by nocto
16/06/2015
Before I read this book my opinion was that "alternative medicine" was largely "trick" and only occasionally "treatment", so much so that I almost didn't bother to read it. But since I struggle to explain that viewpoint to others sometimes I thought I'd have a read and see which bits were actually useful.The authors look into four branches of alternative medicine in detail. Before reading I thought that homeopathy was a load of rubbish (though only since realising in recent years that this involves supposedly making medicines stronger by diluting them, before that I thought it was a synonym for "natural" medicine and I suspect many people have similar delusions); I didn't know much about acupuncture other than I've heard it recommended by doctors so I thought it would have some effect; I knew chiropractic was something to do with backs but chiropractors claim they can cure other things too which I was dubious about; and finally herbal medicine, which I thought would turn out to be genuine natural drugs.Well, after reading I am a bit disappointed that what I thought was my sceptical viewpoint turned out to be a bit rosy! Homeopathy is definitely rubbish as expected, acupuncture pretty much too - the authors leave the possibility that it may have an effect on (IIRC) nausea and pain open but it is basically unproved either way and if it does have an effect then it's very minor. Herbal medicines are a jumble, mostly nonsense with a few mostly well known exceptions like St Johns Wort for mild depression. The most surprising bit for me was the evidence that chiropractors, whilst in general having some effect on back problems and none on anything else, actually employ methods that can cause strokes when manipulating necks. I will be steering clear of them! So, the summary is that the vast majority of the effect of alternative medicine is down to the placebo effect, and the bit I hadn't really thought about before is that you also get a placebo effect when using a conventional medicine in addition to its pharmaceutical action. And much of the problem with alternative medicines is that they lead people to reject conventional medicine for no good reason. I feel like I'm rewriting the book here...there are lots of things I would like to mention but will stop here. It's an easy read and well worth it if you want to find out a bit more about any of these "treatment"s and why they (mostly) don't work.