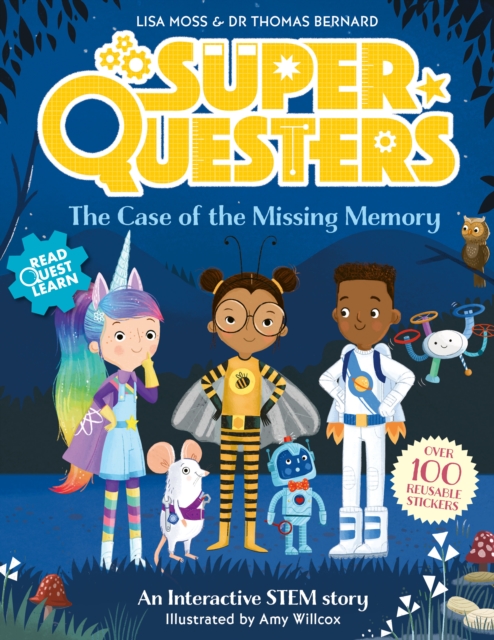 SuperQuesters: The Case of the Missing Memory
Paperback / softback
Description
Discover your inner superhero in the further adventures of the intrepid SUPERQUESTERS!
Ada Twist, Scientist meets PJ Masks in this unique, interactive series expertly designed to develop children's STEM skills in immersive ways never done before. When Bea's robot B-bot malfunctions after installing new dance software the three friends put their heads together and return to Questland as the SUPERQUESTERS to find a solution to their problem.
Upon arrival, the trio discover that Lord Grumble is wreaking havoc with his new Memory Machine, stealing memories from everyone, including the Queen of Questland.
Adventure and excitement await as the friends work together to crack this latest case, while defeating Lord Grumble and his pesky Snapettes.
This unique interactive story with hands-on activities is expertly designed in line with the Key Stage 1 Computing, Maths and Science National Curriculum to help children develop their STEM (Science, Technology, Engineering and Mathematics) skills in innovative new ways.
Children develop over 12 STEM skills including problem solving, coding, sequencing and algorithms as they complete each interactive quest... and discover their inner superhero along the way. Motivating and empowering, each book features over 100 reusable stickers including magical charm rewards and a reward chart to help children mark their progress and celebrate success.
To support grown-ups, spark children's curiosity and bring the adventure further to life there's a 'how to use this book' guide, glossary and answer page, plus free additional hands-on activities and further learning resources to download at: www.questfriendz.comIf you're a superhero enthusiast, love learning through play or enjoy books such as Ada Twist, Scientist, Good Night Stories for Rebel Girls, Look Up! and the Fantastically Great Women series, you'll LOVE this!
It's time to Read, Quest, Learn!Also available in the series: SuperQuesters: The Case of the Stolen SunSuperQuesters: The Case of the Great Energy Robbery - out 5th October 2023SuperQuesters: The Case of the Angry Sea - coming in 2024'A fun, interactive book for inquisitive minds' - Konnie Huq, STEM advocate and author of Cookie and the Most Annoying Boy in the World'This will be a sure fire hit at home or at school and a brilliant example of learning through play!' - Joy Court, expert reviewer, LoveReading4Kids'Buckle up for a mind expanding, brain boggling adventure...this book is guaranteed to ignite a quest for knowledge in even the most reluctant scholar' - WRD Magazine'The blend of storytelling, STEM and interesting activities is genius...my class absolutely loved it!' - Erin Lyn Hamilton, children's librarian and book blogger'This is a book I wish I had had when I was young.
Perfect for reluctant readers and makes a perfect addition to any lower primary school classroom or library.' - SLA School Librarian of the Year 2018, Emma Suffield
Information
Format:Paperback / softback
Pages:32 pages
Publisher:QuestFriendz
Publication Date:16/03/2023
Category:
ISBN:9789082994049
Information
Format:Paperback / softback
Pages:32 pages
Publisher:QuestFriendz
Publication Date:16/03/2023
Category:
ISBN:9789082994049
Also in the SuperQuesters series