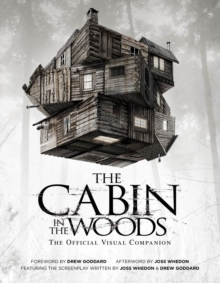 Cabin in the Woods
Paperback
Description
The details of the plot are a closely guarded secret, though Joss himself has described it as "a straight-up, balls-out, really terrifying horror movie", adding, "it is not just a slasher in the woods.
It's a little more complicated than that..." This exclusive companion book features an extended interview with Joss and Drew, the full script, and over 150 photos and stunning pieces of production art.
Information
Format: Paperback
Pages: 176 pages, colour photos/art throughout
Publisher: Titan Books Ltd
Publication Date: 13/04/2012
Category: Film scripts & screenplays
ISBN: 9781848565241
Free Home Delivery
on all orders
Pick up orders
from local bookshops
Reviews
Showing 1 - 2 of 2 reviews.
Review by benuathanasia
16/06/2015
I'm a huge fan of Cabin in the Woods; I watch the last half hour about three times a week, so you can imagine how excited I was to get this book. What a disappointment. It doesn't offer any real insight into the heart and soul of the movie at all. The interviews with Goddard and Whedon were fifty or so pages of (more or less):Did you change anything? - noWas there anything you'd do differently? - noWas there anything you enjoyed but had no choice but to cut? - noIs the mermaid based on anything? - noThanks for all those stunning pearls, boys!And listening to them anytime they talk about each other. <i>Ugh!</i> All it is, is:Goddard: You're the bestWhedon: No <i>you're</i> the best!Goddard: No <i>we're</i> the best!All I hear is: "Me, me, me ME!"Having a copy of the script is cool, but it's formatted weirdly. There's nothing to distinguish set/movement direction from dialogue, so you lose a bit there.The third part of the book is the "creature feature" - it's pretty cool to see the designs behind all the prominent monsters, but what about the ones that flit by so quickly? A splash panel of all the different elevators would have been awesome and completely <i>made</i> this book. Also, more information about the objects in the basement. It's mentioned how EVERY single object in the basement would have summoned a different monster, but they don't tell you what summons anything so you're stuck figuring out most of them for yourself (thankfully, quite a few are obvious: the conch, the unicorn, the music box, the dolls, the clown toys the lament configuration, etc). This book doesn't add much of anything to the movie.
Review by JeremyPreacher
16/06/2015
This is a lovely book - interviews, concept art, stills, and the script to Cabin in the Woods. I mostly got it out of sheer fannish enthusiasm - it was a smart little movie and I want to encourage everyone involved to make more smart little movies - but I'm happy to have it. I adore concept art, I like reading scripts (and this is a great script) and the interviews were particularly good.