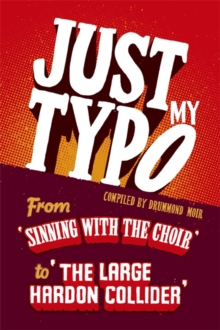 Just My Typo : From Sinning with the Choir to the Large Hardon Collider
Hardback
Description
From the sublime to the ridiculous, Just My Typo is a hilarious collection of typographical errors, slips of the pen and embarrassing misprints which, like any typo of any kind, should never have happened, cannot be excused, and must not in any way be glorified.
Enjoy.You'll travel back in time to meet great figures from history: Sir Francis Drake (who circumcised the world in a small ship), Queen Victoria (who pissed graciously over the Menai Bridge), and Rambo (the famous French poet).
You'll find moral instruction ('Blessed are the meek, for they shall irrigate the earth') and pearls of wisdom ('love is just a passing fanny').
You'll be outraged by politicians who exploit disasters to boost their pubic profiles; entranced by lambs that gamble in the fields; concerned for a man who was admitted to hospital suffering from severe buns; and appalled to meet 11-year-old twins Helen and Ugh.
Information
Format: Hardback
Pages: 192 pages, Illustrations
Publisher: Hodder & Stoughton General Division
Publication Date: 01/10/2012
Category: Language: history & general works
ISBN: 9781444759976
Other Formats
Paperback from £6.85
EPUB from £5.99
Free Home Delivery
on all orders
Pick up orders
from local bookshops
Reviews
Showing 1 - 1 of 1 reviews.
Review by bluepigeon
27/08/2015
Thanks to GoodReads First Reads for a copy of Just My Typo.Just My Typo is a great collection of hilarious typos. There is a focus: single-letter/space/punctuation typos. And there is an organization: legal typos, religious typos, medical typos, etc. Of course, these can be organized any which way, and one way would appeal more to some than other, but Moir (or should I call him DrommonG Moir?) does a good job of compiling and organizing for my taste. I laughed a lot while reading the book, which was not ideal in the subway, but I really cannot complain. I noticed a few things: a) I laugh more when a bad thing is misspelled so it is harmless (e.g., "Armstrong Used Rugs!" Did he, now? Rugs! You don't say!); b) by far the most frequent misspelling quoted in the book is public --> pubic; c) children are confused about the spelling of cute, and most importantly, think that it is spelled just like cunt (who is teaching children to write that?! tsk tsk tsk...); and d) also common is a confusion between adulthood and adultery (same diff!).As a molecular biologist and a technical writer, one of my favorite typos quoted in the book has to be the one where a student goes on and on about gnomes (which got me thinking about the genomes of gnomes, which, I assure you, is not easy thinking). This also makes me want to point out that to get the most out of the typos, one does have to know a bit (for example, I got the gnomes-->genomes typo right away, whereas most people might not have, since they might not know what a genome is [they should, of course, but that's a different book.]) So in a way, Just My Typo is also a subtle education about many facets of life.Recommended for those who enjoy reading about language and grammar, and those who are learning English.
Also by Drummond Moir