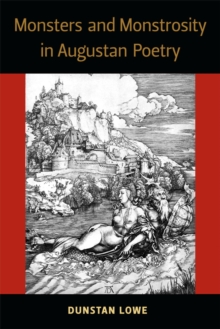 Monsters and Monstrosity in Augustan Poetry
Hardback
Description
Roman poets of the Augustan period reinvented monsters from Greek myth, such as Harpies, Furies, and the warring Centaurs and Giants.
These monsters represented the attractions and dangers of novelty in various contexts, ranging from social values to artistic innovation.
Rome's two great epics of the early principate, Vergil's Aeneid and Ovid's Metamorphoses, are both filled with mythical monsters.
Like the culture that produced them, these poets were fascinated by unfamiliar forms despite their potential to disturb and disrupt. This book takes a fresh approach to the canonical works of Vergil, Ovid, and their contemporaries, contributing to a very recent turn toward marvels, monsters, and deformity in classical studies.
The volume proposes that monstrosity was acutely topical during the birth of the principate, having featured in aesthetic debates of the Hellenistic age, while also serving as an established, if controversial, means for public figures to amaze the population and display their power. Monsters provided a fantastical means to explore attitudes toward human nature, especially in its relationship with sex.
They also symbolized deformations of poetic form. Such gestures were doomed to replay the defeat of hypermasculine monsters yet, paradoxically, they legitimized poetic innovation. Monsters and Monstrosity in Augustan Poetry is the first full-length study of monsters in Augustan poetry, and the first metapoetic readingof monstrosity in classical antiquity.
Intended primarily for scholars and students of classical Latin literature, it will also speak to interdisciplinary monster studies.
It does not require knowledge of Latin or ancient Greek and quotations are translated.
Information
Format: Hardback
Pages: 288 pages
Publisher: The University of Michigan Press
Publication Date: 30/04/2015
ISBN: 9780472119516
Free Home Delivery
on all orders
Pick up orders
from local bookshops