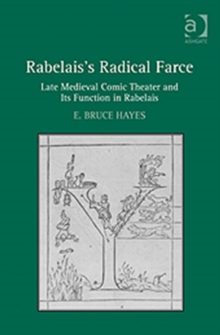 Rabelais's Radical Farce : Late Medieval Comic Theater and Its Function in Rabelais
Hardback
Description
In the first extended investigation of the importance of dramatic farce in Rabelais studies, Bruce Hayes makes an important contribution to the understanding of the theater of farce and its literary possibilities.
By tracing the development of farce in late medieval and Renaissance comedic theater in comparison to the evolution of farce in Rabelais's work, Hayes distinguishes Rabelais's use of the device from traditional farce.
While traditional farce is primarily conservative in its aims, with an emphasis on maintaining the status quo, Rabelais puts farce to radical new uses, making it subversive in his own work. Bruce Hayes examines the use of farce in Pantagruel, Gargantua, and the Tiers and Quart livres, showing how Rabelais recast farce in a humanist context, making it a vehicle for attacking the status quo and posing alternatives to contemporary legal, educational, and theological systems. Rabelais's Radical Farce illustrates the rich possibilities of a genre often considered simplistic and unsophisticated, disclosing how Rabelais in fact introduced both a radical reformulation of farce, and a new form of humanist satire.
Information
Format: Hardback
Pages: 196 pages
Publisher: Taylor & Francis Ltd
Publication Date: 28/10/2010
Category: Theatre studies
ISBN: 9780754665182
Other Formats
EPUB from £40.49
PDF from £40.49