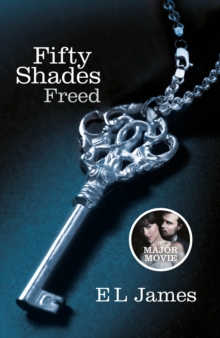 Fifty Shades Freed
Paperback
Description
Romantic, liberating and totally addictive, the "Fifty Shades" trilogy will obsess you, possess you and stay with you for ever.
When Ana Steele first encountered the driven, damaged entrepreneur Christian Grey, it sparked a sensual affair that changed both their lives irrevocably.
Ana always knew that loving her Fifty Shades would not be easy, and being together poses challenges neither of them had anticipated.
Ana must learn to share Grey's opulent lifestyle without sacrificing her own integrity or independence; and Grey must overcome his compulsion to control and lay to rest the horrors that still haunt him.
Now, finally together, they have love, passion, intimacy, wealth, and a world of infinite possibilities.
But just when it seems that they really do have it all, tragedy and fate combine to make Ana's worst nightmares come true...
Information
Format: Paperback
Pages: 576 pages
Publisher: Cornerstone
Publication Date: 01/04/2012
Category: Romance
ISBN: 9780099579946
Free Home Delivery
on all orders
Pick up orders
from local bookshops
Reviews
Showing 1 - 4 of 4 reviews.
Review by tina1969
16/06/2015
I found that the third book of the 'Fifty' series was the better one. There seemed to be a lot more going on rather than just sex. There still was a lot of sex in the third book but thinking about it, the books were meant to be erotic so really what more could I expect. My niggle with the sex is what I have said before is that it really was repeatative and did become tireseome.I don't think for all the tea in China I would fall Mr Grey. I found his ways to weird and although all was explained he really wasn't for me, even with all his money.Ana was ok, I just felt she needed to get out more and although she was mad for Mr Grey I felt she had nothing to compare to, but it's not impossible to fall madly for the first person you meet. Perhaps she needed a date withTaylor ! That would have stirred things up.The 'Inner Goddess' was really cool and savy and did bring a smile along with the emails.Overall the three books weren't bad. They weren't brilliant but my head is saying rubbish my heart is saying well yes they had something. I did find the books fun to read.What these books have done is got people talking and laughing, which makes a change against all the doom and gloom out there today. They have also got people reading that perhaps wouldn't normally pick up a book which again is not a bad thing. Finally they have made Ms James a lot of money in the process.
Review by claireh18
16/06/2015
A disappointing end to the series. I really wanted to find out more about Christian and what makes him tick (apart from the obvious!)
Review by atreic
16/06/2015
[Contains spoilers, like all my reviews]OK, I did enjoy this. At the point where Mia was kidnapped and Ana was pregnant the pages were flying by. And Ana gets a bit of a backbone, if only a bit. Her taking the jetski, and driving in the car chase, and (while OK, being quite generally stupid and foolhardy) throwing away a fake mobile phone, is all fun and endears me to her. The happy ending is predictable. They have beautiful children and live in a beautiful house, loving each other and having hot kinky sex. Another 'babies are the happy ending' book. Oddly, Christian does not end up as healed as I thought he would. Even in the final chapter, there is still this annoying, controlling theme - he's still trying to bully her into giving up work. She is still resisting though. The cynic in me wonders whether they'll still be happy in 10 years time, whether they can keep that fever pitch of sexual tension good enough to make up for all the shit he pulls on her. They're in a book though, so I guess they probably can. The random fanfic stuff at the end is a bit gratuitous and doesn't add much.The monogamy and exclusivity gets a bit grating. It is a Good Thing, that Elliot asks Kate to marry him, even though they barely know each other. Christian is forever emphasising that Ana is _his_, and that no-one else has ever been there. Ana says things that are either actually not true - 'you're nothing like Jack' - or that she can't know are true - 'I'll never leave you' (presumably if he flipped out and did something truly unforgivable we would discover even Ana has a line somewhere). Romantic heroines do this. I don't like it. Maybe I don't like it because I don't think I could, but because I think that unconditional love and reassurance and being blindly on someone's side is in some way kind of noble, and so I feel slightly lacking that I can't. But I'm glad I read them all - they weren't hard going, and I hate it when people have opinions on things they haven't actually read.
Review by boppisces
16/06/2015
I think this is the better of the three books. The 'Shades of Christian' part included right at the end was good and gave a greater insight into his character.