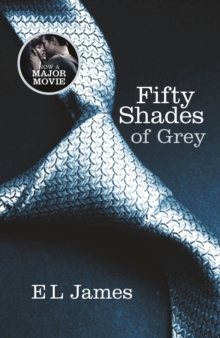 Fifty Shades of Grey
Paperback
Description
This title is soon to be a major movie starring Jamie Dornan and Dakota Johnson, directed by Sam Taylor-Johnson.
When literature student Anastasia Steele interviews successful entrepreneur Christian Grey, she finds him very attractive and deeply intimidating.
Convinced that their meeting went badly, she tries to put him out of her mind - until he turns up at the store where she works part-time, and invites her out.
Unworldly and innocent, Ana is shocked to find she wants this man. And, when he warns her to keep her distance, it only makes her want him more.
As they embark on a passionate love affair, Ana discovers more about her own desires, as well as the dark secrets Christian keeps hidden away from public view ...
Information
Format: Paperback
Pages: 560 pages
Publisher: Cornerstone
Publication Date: 01/04/2012
Category: Romance
ISBN: 9780099579939
Other Formats
Paperback from £7.09
CD-Audio from £16.25
Free Home Delivery
on all orders
Pick up orders
from local bookshops
Reviews
Showing 1 - 5 of 37 reviews.
Previous | Next
Review by tina1969
16/06/2015
When literature student Anastasia Steele is drafted to interview the successful young entrepreneur Christian Grey for her campus magazine, she finds him attractive, enigmatic and intimidating. Convinced their meeting went badly, she tries to put Grey out of her mind - until he happens to turn up at the out-of-town hardware store where she works part-time.My Thoughts:Every now and again, just like 'The Da Vinci Code' a book will come long that everybody is talking about and everyone wants to read. This book is no exception, so I got myself a copy to see what all the hype is about. The main characters are Ana a student who meets Mr Grey and they start a very complex sexual affair. Sexual being the major word here. I am going to be quite frank now, you have heard that thing ' how many people can you get in to a mini' well this book is how many sex scenes and how many orgasms can you fit into one book. The book is ouzing with sex. This is my problem. I am no prude but there was just to much sex and not enough story. The story line was a little thin but being has there are another two books in the set then the story may develop more. This is my second problem. I don't fancy reading the second book if it is going to be full of sex again like the first one as I found it very intense and actually felt worn out at the end myself, but I do want to see what happens to Ana and will she or wont she. Overall the book although was full of sex had something about it that made me want to finish it. I have told my friends at work about it and they all want to read it and so does my mom. Looking back it wasn't too bad at all just very overpowering and and I was thinking 'oh no not again' but this book is what it is, a good old dirty book !
Review by clfisha
16/06/2015
I am not sure why this book has attracted so much hype and hate it seems to be pretty standard in the erotic romantic fictions genre (although I don't read *that* much). Plot and characters are all subsumed into the sole purpose of romantic wish fulfilment of boy meets girl, problems ensue all so they can then make up and in this case its spiced with some very tame BDSM. It's a bit hard to review because it depends what floats your boat, characters fit their allotted role and no more, there is only the romance for a plot and the writing is ok as is the erotica. I guess the naive young heroine is stretched so far it could be astoundingly irksome (always harping on about her inner goddess) but for me that's part of the fun, and it is fun I enjoyed it in one huge gulp.Those looking for anything more are going to be disappointed and for any S&M fan I would stay clear.. it's not treated with a particular approving tone. I have read the 2nd book in the trilogy but to be honest it started to stretch everything a bit too far and I got a tad bored. Deranged ex-girlfriends and stereotypical villains to add danger didn't really float my boat.
Review by KarynB
16/06/2015
I cant understand what the hype is about? Very poorly written book that made me cringe to think I was reading it. One word sums it up - Lame.
Review by LauraT81
16/06/2015
I must admit that I was looking very forward to reading Fifty Shades of Grey, even though it is not my typical read. I have never, purposely, read anything labeled "erotic romance", until now. What began as Twilight fan fiction, though it has nothing to do with vampires, has become a tour de force on its own, with most readers either loving or loathing it. Personaly, my feelings are mixed. On one hand, I found the novel interesting, maybe a bit unrealistic, but absorbing. On the other hand, I wanted to shake Ana, the main character, until her teeth rattled (maybe the novel was a bad influence ), and throw the book down and stomp it. I'm actually pretty mad at myself for wanting to know what's going to happen next. I'm going to hang my head shamefully when I buy the other two books.
Review by LiterarilyChallenged
16/06/2015
I picked this book up to find out for myself what all the hype was about and after reading it, I'm still wondering. The writing is awful, how many times can one book repeat the phrase, "my breath hitches"? I skipped pages at a time because it really didn't matter. The characters that surround Ana and Christian are superficial at best and have no weight whatsoever on the story as a whole. The entire basis of the story (rich, eligible male drawn to a young woman who changes his entire way of thinking) is unrealistic, not to mention over done. Ana's "innocence" is grossly overplayed. What college graduate doesn't know a single thing about sex? In my opinion the ending was the best part of the entire book (and not just because the story was coming to an end). The break up was more emotionally charged than any of the sexual scenes and finally made me feel something besides annoyed.Still, I wonder, what's all the hype about?