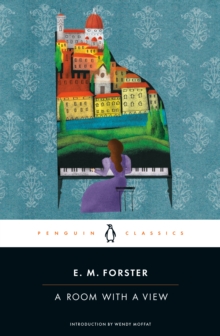 A Room with a View
Paperback
Description
E.M. Forster's vision of love struggling to assert itself in spite of the rigid class boundaries of Edwardian England, A Room with a View contains an introduction by Malcolm Bradbury in Penguin Classics.Visiting Florence with her prim and proper cousin Charlotte as a chaperone, Lucy Honeychurch meets the unconventional, lower-class Mr Emerson and his son, George.
Upon her return to England, Lucy becomes engaged to the supercilious Cecil Vyse, but she finds herself increasingly torn between the expectations of the world in which she moves and the passionate yearnings of her heart.
More than a love story, A Room with a View (1908) is a penetrating social comedy and a brilliant study of contrasts - in values, social class, and cultural perspectives - and the ingenuity of fate.In his sparkling introduction Malcolm Bradbury notes that A Room with a View 'was the work where Forster laid down most of his key themes, the place where he displayed both his warmth and sharpness, and developed his famous light style.' This edition also contains suggestions for further reading and explanatory notes.E.
M. Forster (1879-1970) was a noted English author and critic and a member of the Bloomsbury group.
His first novel, Where Angels Fear To Tread appeared in 1905.
The Longest Journey appeared in 1907, followed by A Room With A View (1908), based partly on the material from extended holidays in Italy with his mother.
Howards End (1910) was a story that centred on an English country house and dealt with the clash between two families, one interested in art and literature, the other only in business.
Maurice was revised several times during his life, and finally published posthumously in 1971.If you enjoyed A Room with a View, you might enjoy D.H.
Lawrence's Women in Love, also available in Penguin Classics.
Information
Format: Paperback
Pages: 240 pages
Publisher: Penguin Books Ltd
Publication Date: 01/08/2000
ISBN: 9780141183299
Other Formats
Paperback from £5.05
CD-Audio from £15.79
EPUB from £12.47
eAudiobook MP3 from £14.24
Free Home Delivery
on all orders
Pick up orders
from local bookshops
Reviews
Showing 1 - 5 of 9 reviews.
Previous | Next
Review by shootingstarr7
16/06/2015
When I began A Room with a View by E.M. Forster, I wasn't sure what to expect. It's not a long book- less than 200 pages- but I got stuck about one hundred pages into Howard's End four years ago and never completed it. So in late May, I began reading it. It took me nearly a month and a half to complete it, making the story feel much longer than it actually was. I couldn't quite suss out the relationship between Lucy and Charlotte, or exactly why Charlotte found Mr. Emerson and his son so objectionable. I struggled with the rhythm of the novel nearly the whole time they were in Italy. But then they returned to England, and I finally got a feel for Lucy and the rhythm of the story, and in the end, I really enjoyed it. Perhaps the most fascinating thing about this novel is that Forster accurately reflects the changes of society and the novel at the time. The conflict between old Victorian proprieties and modern sensibilities and equalities plays out in its pages much the way it did in real life. The upper classes (as well as those who aspired to the upper class, in Charlotte's case) tried to retain their old social values, while the working classes sought progress. And though he never says it explicitly, Forster suggests that those touting progress and reform were more sensible than those who clung to the old ways. This is especially clear in the depictions of Cecil Vyse and George Emerson; Cecil is portrayed as being boorish and lazy, and nearly opposite of George Emerson, whose quiet strength ultimately wins Lucy's heart.
Review by Elphaba71
16/06/2015
A fantastic book about a girl, Lucy, who is torn between love and duty - between truth and hypocrisy. The first part Set in florence and england at the turn of the century in the second part. As the story opens out, Lucy learns to acknowlage her true feelings. A wonderfully written warm love story.
Review by startingover
16/06/2015
Very readable novel featuring the likeable Lucy Honeychurch, whose worldview is expanded whilst she's travelling in Italy with her annoying poor relation, Charlotte Bartlett. In Italy her family's ideas of what constitutes 'good' society is confused by the Emersons, who are not the 'right sort' but whose (relative) unconventionality interests (and confuses) Lucy. Just before the pivotal episode when George kisses Lucy among the violets, Mr Eager exhorts her to have 'Courage and love'. Lucy steps out of the wood onto 'this terrace [that] was the well-head, the primal source whence beauty gushed out to water the earth'. The moment is spoiled by Miss Bartlett calling to Lucy. Charlotte Bartlett represents the repressive elements in Lucy's life. Charlotte stands 'brown against the view'. Later, Mr Eager again tells Lucy that she needs courage, 'and faith', but Lucy is unsure where to place her faith. Back in England she becomes engaged to pompous, snobbish Cecil, denying her feelings for George Emerson. Cecil loves Lucy because he reminds her of 'a woman of Leonardo da Vinci's, whom we love not so much for herself as for the things she will not tell us'. Lucy's feelings are in a 'muddle', torn between the old world of Victorian values and strict social boundaries, and the new world represented by the Emersons, a freer world where she can be her own person and make her own decisions rather than being told what is right, what is good, what is beautiful. [August 2004]
Review by sometimeunderwater
23/09/2015
Read this and 'Where Angels Fear to Tread' in quick succession. This is definitely the 'nicer' of the two: sweet happy ending, young love story. It risks becoming schmaltzy, but avoids it through great writing and very human characterisation. You can see Forster's influence on English literature, trickled down to Smith and Hollinghurst, etc.
Review by mysterious_scent
16/06/2015
This is a book that I could pick up at anytime, turn to any page and start reading and enjoying. I enjoy the story, the character development and the language.