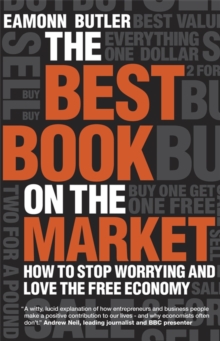 The Best Book on the Market : How to Stop Worrying and Love the Free Economy
Hardback
Description
The free market makes the world go around. Maybe it's time we all tried to understand it a little better.
Luckily Eamonn Butler is the ideal teacher to get us all up to speed.
Markets are everywhere. But how many of us understand how they work, and why?
What does a 'free market' really mean? Do free markets actually exist? Should we have more or less of them? Most of all - do we really need to know all this? Answer: Yes we do. MAKING ECONOMICS SIMPLE SO THAT EVEN POLITICIANS CAN UNDERSTAND IT If any mention of free markets sends your mind screaming back to your musty old school economics textbook, think again. The Best Book on the Market will keep you gripped, intrigued and well informed.
Abandoning complicated mumbo-jumbo, Eamonn Butler, Director of the UK's leading free market think-tank, demystifies the world of markets, competition, monopolies and cartels, prices and overspills.
Using examples from our everyday lives Dr Butler explains how the markets we have, and the many more we need, can work to create a richer, freer and more peaceful world. STOP WORRYING AND LOVE THE FREE ECONOMY He delves into the morality of markets and interrogates important issues such as why feckless rock-stars are paid much more than worthy nurses; whether we should worry about people trading in arms, water, healthcare etc; whether black markets are immoral; and questions of equality; sweatshops, and fair trade. "This book is about the free market and how unfree it can be when there is a lack of belief in freedom itself.
Eamonn Butler presents solid arguments against government attempts to 'perfect' the markets by regulation, controls, subsidies, or by adopting measures which obstruct competition and private ownership." Vaclav Klaus, President of the Czech Republic "Vividly and simply explains competition, entrepreneurship and prices".
John Blundell, Director, Institute of Economic Affairs "A great little book that gets to the heart of how and why markets work, in a very engaging and easily understood way". Dan Lewis, Research Director, Economic Research Council "I welcome this witty, lucid explanation of how entrepreneurs and business people make a positive contribution to our lives, and why economists often don't". Andrew Neil , leading journalist and BBC presenter "Anything which educates the public - and politicians - on how the free economy actually works is always welcome. Dr Butler does this in style". Lord Lawson, former UK Chancellor of the Exchequer "Everyone in business would do well to understand the basic principles of markets which Dr Butler clarifies so well in this short book". Allister Heath, Editor of The Business and Associate Editor of The Spectator "This book does great justice to the vibrancy of markets and what makes them tick" Ruth Richardson, former Finance Minister of New Zealand "It's refreshing to see an economist who understands the importance of innovation and entrepreneurship in pushing progress forward, and who can explain it in straightforward language." Trevor Baylis OBE (inventor of the wind-up radio) "I'm glad to see that Dr Butler stresses the role of innovators - and the importance of market structures that encourage innovation." Sir Clive Sinclair (inventor) "Dr Butler's book is a welcome and very readable contribution on the mechanisms and morality of the free economy."Sir John Major KG CH (former UK Prime Minister) "'Market' is one of the first six-letter words that every English-speaking child learns: as in 'This - little - piggy - went - to - market'". Geoffrey Howe, former UK Chancellor of the Exchequer
Information
Format: Hardback
Pages: 172 pages, Illustrations
Publisher: John Wiley and Sons Ltd
Publication Date: 16/04/2008
Category: Economic systems & structures
ISBN: 9781906465056
Other Formats
PDF from £15.29
EPUB from £15.29
Free Home Delivery
on all orders
Pick up orders
from local bookshops