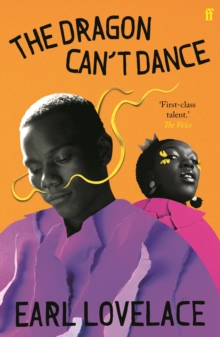 The Dragon Can't Dance
Paperback
Description
A story of shanty-town life in Trinidad. Calvary Hill is the home of Aldrick Prospect, who lives for the carnival and his once-a-year chance to play dragon.
Here too live Miss Cleothilda, the ageing carnival queen, Philo the Calypsonian, and Fisheye, who flaunts his strength in the steel bands.
Information
Format: Paperback
Pages: 240 pages
Publisher: Faber & Faber
Publication Date: 19/01/1998
ISBN: 9780571193172
Free Home Delivery
on all orders
Pick up orders
from local bookshops
Reviews
Showing 1 - 1 of 1 reviews.
Review by AndrewBlackman
16/06/2015
The main character in this novel is not really Aldrick, who plays the dragon, or Fish-eye the "bad-john", or anyone else, but the district of Calvary Hill itself. Earl Lovelace introduces us to a range of different characters who live in Calvary Hill, a poor district on the edge of Port-of-Spain, and we follow them through the years as the neighbourhood changes and the characters are caught between embracing the new and regretting the loss of the old.Carnival plays a major role in the novel. I heard Earl Lovelace speak about this at Bim Literary Festival in Barbados recently and he said "Carnival is welcoming people into a space, holding up the idea of "all ah we is one" even if it's not always the case in reality. In music we're all the same, we're all human." In this novel he does a great job of exploring this, exposing the cracks in the community for the rest of the year and showing how they are temporarily put aside for carnival. But as things change, even in carnival itself there is division, as some want to get corporate sponsorship and "clean up" carnival, while others want it to retain its traditional, untamed revelry.Lovelace has tremendous compassion for all his characters and develops them all fully. Although he is compassionate, he is not sentimental, and shows their faults as well, such as their exclusion of the Indian character Pariag. Novels without a focus on a strong central character can sometimes feel a little disjointed, but this one doesn't. I cared about all of the characters, and cared about the fate of Calvary Hill too, as all the characters fight to preserve it in their own very different ways. Normally there's something about a book that I don't like, but this one really is hard to find fault with. It's a tremendous literary achievement, a moving depiction of a community, and I can wholeheartedly recommend it. Five stars.