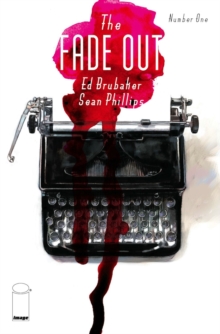 The Fade Out Volume 1
Paperback
Description
"A fun, fast read that is fully engaging. The multiple story lines and deeply flawed characters will keep the readerinvested.
Some of the content is for a mature audience, but this should notdeter a worthy library purchase.
For fans of Brubaker and Phillips, film noir,and Golden Age Hollywood stories." - Library Journal(Starred)Brubaker and Phillips' newest hit series, TheFade Out, is an epic noir set in the world of noir itself, the backlots andbars of Hollywood at the end of its Golden Era.
A movie stuck in endlessreshoots, a writer damaged from the war and lost in the bottle, a dead moviestar and the lookalike hired to replace her.
Nothing is what it seems in theplace where only lies are true.
The Fade Out is Brubaker and Phillips'most ambitious project yet!
Information
Format: Paperback
Pages: 120 pages
Publisher: Image Comics
Publication Date: 10/03/2015
Category: Crime & mystery
ISBN: 9781632151711
Free Home Delivery
on all orders
Pick up orders
from local bookshops
Reviews
Showing 1 - 5 of 9 reviews.
Previous | Next
Review by ColeReadsBooks
16/06/2015
A beautiful noir graphic novel set in 1940s Hollywood.Charlie wakes up after having blacked out from drinking so much. He has a killer hangover, but ultimately has to get to work - the studio is still shooting their latest movie. As Charlie sets about getting to work he finds Val Sommers, the female leading lady of the picture, dead on the apartment floor. She has been brutally murdered. Fleeing the crime scene, Charlie heads home, only to find out that the studio have covered it up, breaking the news that Val Sommers has committed suicide. Charlie is wracked with guilt, he knows a killer is on the loose, but how can he prove it without getting the blame?Previous to this I had never heard of Ed Brubaker's work, but the book caught my attention on Netgalley and I was instantly intrigued. The cover really stood out as something different, in fact I think it's one of my favourite covers so far of 2015, just look at it! But the beautiful cover in no way distracts you from what's inside the book. This graphic novel is fantastic. The plot is exciting, there's so much going on - corruption and murder being just two of them. Hollywood is portrayed as a ruthless and seedy world, and I imagine that this is probably what Hollywood was like at the time. Although the murder plays a really intrinsic role in the plot, there's a whole lot more going on - Charlie the writer, who saw so many horrific things in the war that he can no longer write, Gil - the drunk who has been blacklisted from so many of the big Hollywood companies, add a backdrop of relationships, PR stunts and media, and you're beginning to get a taste of just how rich the story of The Fade Out really is. Something that I really liked about this graphic novel is that it adds a real life element to the story - while there is no murder covered up as suicide (that we know of) that happened in Hollywood, the film is being shot by Victory Pictures - a thriving company at the time. It also features real movie stars from the time, like Clark Gable. It really adds a dimension of realism to the story, and it made me appreciate the plot all the more. The thing about The Fade Out that I really enjoyed the most was the depth of the characters. Brubaker manages to fit so much into such a small space. Each character is dealing with so much - yes there is wild parties, drinking and seducing, but there's also writer's block, unhappy marriages and so much more going on in between. I think that is testament to how beautiful the artwork is, that so much can be conveyed in one panel. It's wonderfully written, and makes for a very smooth, enjoyable read that you can easily immerse yourself in. A terrific, exciting graphic novel, with plenty of drama and intrigue thrown in too.
Review by grumpydan
16/06/2015
The Fade Out deals with the Golden age of the film industry and screenwriter Charlie Parish wakes up from a drunken stupor next to a dead girl. When he takes off, he finds that the studio has fixed it to make it look like a suicide and his world begins to crumble. While the artwork is fabulous and the story begins to develop, I thought it was way too slow. I understand that this is the first issue of a series and you need to develop characters and plotlines but with a hundred or so pages I thought there would be more. Although, I hear the writers have done some great stuff in the past but I probably won't be checking out the second issue of this story.
Review by heradas
16/06/2015
I'm in love with the world Brubaker &amp; Philips have crafted. Pulpy historical fiction, dripping with damaged characters. It's the filthy side of the industry we all love to pretend is glamorous. It's the flawed world that lies somewhere between the cameras and McCarthy's post-war American landscape. Everyone is struggling for their own reasons. The film executive doesn't know what he wants anymore. The aspiring actress is hopeful that all she's lost just to get here will eventually be worth it. The screenwriter is torn between coming clean or saving his own skin. And we're all just along for the ride.<br/><br/>I'd like to point out that the title of this graphic novel is brilliant. Beyond the obvious screenwriting usage, what else is it referring to? A dead actress? A blacklisted screenwriter's shrinking relevance? The end of the golden era of film making? It's a double/triple/quadruple entendre that sets the scene for a murder mystery in the seedy world of Holywoodland circa 1948.
Review by eenerd
09/10/2015
I like this--the characters are a little cheesy and contrived at times but maybe that's on purpose? Like overplay the old time period cliches to make a point? I dunno. Great artwork!!
Review by Rosa.Mill
27/01/2016
More of the gritty noir books that Brubaker does so well, this time taking place in the glam of late 1940s Hollywood. The art style on this is just utterly and completely gorgeous; the muted colors, the detail, so pretty.