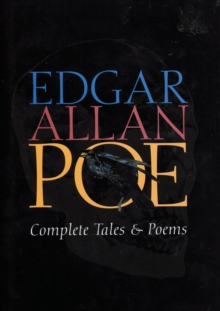 Edgar Allan Poe Complete Tales & Poems
Hardback
Information
Format: Hardback
Publisher: Castle Books
Publication Date: 29/11/2009
Category: Anthologies (non-poetry)
ISBN: 9780785814535
Other Formats
Hardback from £9.89
Paperback from £15.09
EPUB from £9.99
Free Home Delivery
on all orders
Pick up orders
from local bookshops
Reviews
Showing 1 - 5 of 6 reviews.
Previous | Next
Review by JBD1
16/06/2015
Classics from Poe, all worth reading.
Review by caerulius
16/06/2015
I love Poe. He's brilliant.So you may wonder why I gave this 4 stars, instead of 5?It's the book's fault, really. There is an enormous number of stories, articles and poems in this volume, and yet there is no header to the pages, telling you which story you are passing, which is frustrating when you are trying to find something. The print is absolutely tiny, which is difficult. Granted, it is a very large book, so the print issue may have been unavoidable, but the heading thing is a far bigger issue than I would have anticipated.This review assumes that you are familiar with the chilling, marvelous beauty of Poe's writing, because you will note I am not critiquing the content. Poe is well-ensconced in the pantheon of writers. Hands-down.
Review by rybeewoods
16/06/2015
Poe is intruiging. He reminds me of Hitchcock in many ways (it should be the other way around right?). Mostly the resemblence has to do with thier M. Night Shamalongadingdong style twists and suspence. I find that we are so acustomed to that type of reading these days that Poe comes across pretty routine. Too bad.
Review by LostFrog
16/06/2015
Poe's overrated. But still good. I read this a while ago, I remember liking a story about a maelstrom, mainly because I just like that word.
Review by BookSeekers
16/06/2015
Edgar Allen Poe is a classic 19th century author, his works are what remains of his life and are therefore rather foreboding and Erie to read. Nevertheless they are classics. His short stories, mysteries, poems, ect. Should be read by all just for the sake of being well written literature and classics.