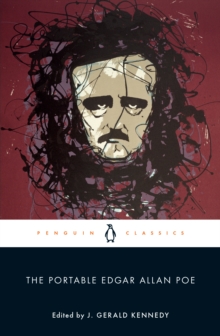 The Portable Edgar Allan Poe
Paperback
Description
The Portable Poe compiles Poe's greatest writings: tales of fantasy, terror, death, revenge, murder, and mystery, including "The Pit and the Pendulum," "The Fall of the House of Usher," "The Cask of Amontillado," and "The Murders in the Rue Morgue," the world's first detective story.
In addition, this volume offers letters, articles, criticism, visionary poetry, and a selection of random "opinions" on fancy and the imagination, music and poetry, intuition and sundry other topics.
Free Home Delivery
on all orders
Pick up orders
from local bookshops
Reviews
Showing 1 - 2 of 2 reviews.
Review by AlCracka
16/06/2015
Edgar Allan Poe was a depressive indolent drunk failure who married his 13-year-old cousin and spent his life composing purposefully obnoxious, repellant stories because "To be appreciated, you must be <i>read,"</i> and he felt that the controversy would get him read. Which was astute of him. <br/><br/>His Dupin stories are interesting if you're a Holmes fan, since Conan Doyle's debt to them is obvious, but they're nowhere near as good as the Holmes stories. Fucking orangutans, man. His horror is hit or miss. Pit and the Pendulum is truly disturbing; Fall of the House of Usher is a little boring.<br/><br/>And he was just obsessed with being buried alive. Man, like all his stories are about that. Loss of Breath is my favorite, I think.
Review by shanaqui
16/06/2015
Read selections from this for my coursera SF/F class. And... it's made me like Poe even less, somehow. I just found his prose completely stultifying -- possibly partly because I've read most of these stories before (if not all), partly because of the period it was written, and part of it must be something to do with Poe's style specifically, because I don't find all work of that era equally boring.Whatever, I'm glad to have read Poe so I have that background knowledge, but emphasis on <I>have read</i>, past tense. I can't see myself voluntarily reading more of his work.