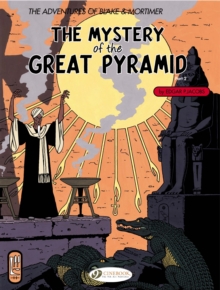 The Adventures of Blake and Mortimer : Mystery of the Great Pyramid, Part 2 v. 3
Paperback
Description
Captain Blake seems to have lost the first round in Part 1, having been assassinated at Athens airport.
But a furious Mortimer swears that he'll never stop trying to avenge his friend.
He goes on the hunt, but information is scarce. Strange happening occur when he comes under the protection of Sheik Abdel Razek and Mortimer soon feels like he's losing his way in his investigation which will lead him to the darkest depths of the Great Pyramid...
Information
Format: Paperback
Pages: 56 pages, colour illustrations throughout
Publisher: Cinebook Ltd
Publication Date: 03/01/2008
Category: Comics and Graphic Novels
ISBN: 9781905460380
Free Home Delivery
on all orders
Pick up orders
from local bookshops
Reviews
Showing 1 - 2 of 2 reviews.
Review by adpaton
16/06/2015
I first discovered Blake & Mortimer in the Unisa library back in the mid-1980s: the old volumes were of course in French, not a language with which I have much familiarity, but the wonderful ligne claire style, so strongly reminiscent of Herge's Tintin, was irresistable and, armed with a dictionary, I battled through them. I later discovered that Jacobs worked very closely with Herge, eventually falling out with him professionally [although never personally] because he [Jacobs] did so much of the Tintin artwork he felt he was entitled to a credit, which Herge refused. Jacobs is not afraid to go to places Herge barely skirted - except in Flight 714, when Tintin and co are recued from a volcanic island by unseen aliens. Tintin is always rooted in reality, humour and, to an extent, current events: Blake & Mortimer is set in the 50s and obviously influenced by the Cold War and the ambience of the period but the stories attempt to escape rather than embrace the temporal mood. Had Blake and Mortimer emulated Tintin's journey to the moon, there is no doubt they would have met up with Martians on their visit. That's the way the stories are. Tintin became familair with the Egypt of the 1930s when investigating the Cigars of the Pharoah, which featured mummies, tombs and Egyptologists: Blake and Mortimer not only get to grips with excavation and treasuire 20 years later, but also have first hand dealings with an Egyptian sage who helps vanguish the series villain, Count Orlik. Mind you, he doesn't do a very good job of it because old Orls pops up again, albeit amnesiac, in the very next book. Another deviation from the Tintin path is that people are murdered on a regular basis in Jacob's stories, an occurance that was extremely unusual in the Herge stories. Mortimer goes to Cairo where he gets mixed up in some business concerning an ancient papyrus, herietic kings, lost treasure and Count Orlik: he calls Blake from England to help him but the MI5 boss is apparently assassinated at the Athens airport. Mortimer comes into conflict with the esteemed Egyptologist Dr Grossgrabenstein, is assisted by the mysterious old magician Sheik Abdel Razek and toegther with a reserceted Blake [who had been undercover for most of volume two] discovers a secret chamber in the Great Pyramid. Stirring stuff. Not a patch on Tintin in my opinion and the plotting, in additon to being somewhat unbelievable, is also somewhat weak. The inclusion of the supernatural and the exclusion of humour do not serve the story well. However, these are quibbles and generally I thoroughly recommend this sadly overlooked graphic couple whose beautifully drawn adventures are a wonderful addition to the library of any graphic novel fan, especially those who value ligne claire.
Review by Michael.Rimmer
27/08/2015
An enjoyable conclusion to the Egyptian adventures of Blake and Mortimer.Actually, Blake is more conspicuous by his absence in this story, rather like Holmes in <i>The Hound of the Baskerville's</i>, so most of the action is carried by Professor Mortimer, who does a pretty good job of it. When Captain Blake does appear, it is in a very Holmesian way, which I took as an homage to the Great Detective rather than a cliché, though I guess it could be seen either way depending upon your inclination.The supernatural element is similarly debatable: was magic actually used, or were suggestion and hypnotism employed? It could easily be either, and the story does not suffer for the ambiguity - another mystery to ponder!I'm reading these stories in the order they were published in English, so chronologically this story come before the one I read first, <i>The Yellow M</i>. The stories are enjoyable in whatever order you read them, but it would make sense to read them chronologically.