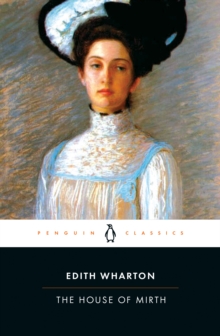 The House of Mirth
Paperback
Description
A black comedy of manners about vast wealth and a woman who can define herself only through the perceptions of others.
The beautiful Lily Bart lives among the nouveaux riches of New York City - people whose millions were made in railroads, shipping, land speculation and banking.
In this morally and aesthetically bankrupt world, Lily, age twenty-nine, seeks a husband who can satisfy her cravings for endless admiration and all the trappings of wealth.
But her quest comes to a scandalous end when she is accused of being the mistress of a wealthy man.
Exiled from her familiar world of artificial conventions, Lily finds life impossible.
Information
Format: Paperback
Pages: 368 pages
Publisher: Penguin Books Ltd
Publication Date: 01/05/1993
ISBN: 9780140187298
Other Formats
Paperback from £2.50
Hardback from £8.35
EPUB from £0.99
Paperback / softback from £5.99
Free Home Delivery
on all orders
Pick up orders
from local bookshops
Reviews
Showing 1 - 2 of 2 reviews.
Review by Daisydaisydaisy
16/06/2015
I read "The house of mirth" for reading group in July, which proved to be an interesting choice, especially immediately after getting married! After spending most of the book being puzzled about what it's got to do with mirth (it's not exactly, erm, mirthful), and not doing something sensible like looking it up on Librarything, I discovered that everyone else at reading group had a different edition, and that edition included an helpful introduction which included an explanation of the title! It comes from the Bible - Ecclesiastes 7: 4 - "The heart of the wise is in the house of mourning; but the heart of fools is in the house of mirth." That makes a whole lot more sense! The book follows Lily, who is basically on the shelf at the age of 29 and becoming increasingly desperate to assure her place in society by getting married to some suitable man. Whereas she was once at the centre of society she is now heading to its outer edges. She does love a man, but he isn't really in the right class so not an option. The society revolves around the social niceties and not putting a foot wrong. Lily slowly sinks further and further. At times I got very frustrated with her - why didn't she just get a job and support herself? - kept creeping into my mind. But it does become clear that she was never brought up with any idea of having to do that and has no skills or talents other than being an ornament. It is hard to identify with her as she is SO far removed from the world we're in now, but it's only 100 or so years ago (first published in 1905)! It also made me very glad that I do live now, especially with the life parallels, having just got married!
Review by shirleybell
16/06/2015
I liked this! It is the first book I have read by this author and having read this, I shall definitely be reading more of her work. My sympathy for Lily grew throughout the book and though she was annoying at the start, I grew to like her as the story progressed. I didn't mind that <spoiler> the book had a sad ending - in fact that made the book all the more poignant.</spoiler>