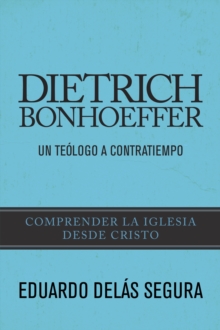 Dietrich Bonhoeffer: Un teologo a contratiempo
Paperback
Description
Comprender la Iglesia desde Cristo
En el ano 2006, celebramos el centenario del nacimiento de uno de los hombres cuyo pensamiento mas ha fecundado el quehacer teologico de la segunda mitad del siglo XX. Sin embargo, cualquier acercamiento a la comprension de Bonhoeffer pasa por integrar vida y pensamiento, puesto que la suya fue siempre una «teologia de rodillas» interpretada y encarnada desde el seguimiento de Jesus y la militancia en la iglesia. Esa y no otra, es la clave hermeneutica que nos permite situarnos en el lugar de observacion correcto para acoger su vision del cristianismo. Su discurso docente y su vida inspirada en una insobornable piedad cristiana, merecen ser desenterrados y puesto al servicio del pueblo de Dios en el momento actual.

Understanding the Church from Christ
In the year 2006, we celebrated the centenary birth of one of the men whose thinking has most fertilized the theological thinking of the second half of the twentieth century. However, any approach to the understanding of Bonhoeffer lies in integrating life and thought, because his was always a "theology of knees" interpreted and incarnated from following Jesus and militancy in the church. That and no other, is the hermeneutical key that enables us to be at the correct point of observation to accept his vision of Christianity. His style as a teacher and his life inspired by Christian piety deserve to be unburied and placed at the service of the people of God in the present day.
Information
Format: Paperback
Publisher: Tyndale House Publishers, Inc.
Publication Date: 01/08/2015
Category: Christian theology
ISBN: 9781496402813
Free Home Delivery
on all orders
Pick up orders
from local bookshops