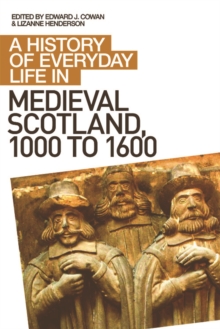 A History of Everyday Life in Medieval Scotland
Paperback / softback
Description
This book examines the ordinary, routine, daily behaviour, experiences and beliefs of people in Scotland from the earliest times to 1600.
Its purpose is to discover the character of everyday life in Scotland over time and to do so, where possible, within a comparative context.
Its focus is on the mundane, but at the same time it takes heed of the people's experience of wars, famine, environmental disaster and other major causes of disturbance, and assesses the effects of longer-term processes of change in religion, politics, and economic and social affairs.
In showing how the extraordinary impinged on the everyday, the book draws on every possible kind of evidence including a diverse range of documentary sources, artefactual, environmental and archaeological material, and the published work of many disciplines.
The authors explore the lives of all the people of Scotland and provide unique insights into how the experience of daily life varied across time according to rank, class, gender, age, religion and ethnic group.
They look at the contextual nature of everyday experience and consider how this was shaped by national, regional and tribal considerations. They reveal the variations between Highland and Lowland, the Western Isles and the Northern Isles, inland and coastal, and urban and rural.
They examine the role played by language, whether Gaelic, Welsh, English, Pictish, Norse, Latin or Scots.
The book shows the distinctively Scottish aspects of diurnal life and how, through trading and contact with migrants, the lives of Scots were affected by other cultures and nations.
Taken as a whole it represents a new way of looking at medieval Scotland and has implications and relevance for historians and their public across the discipline.
Information
Format: Paperback / softback
Pages: 336 pages, 36 black & white illustrations
Publisher: Edinburgh University Press
Publication Date: 01/06/2011
Category: British & Irish history
ISBN: 9780748621576
Also in the A History of Everyday Life in Scotland series | View all