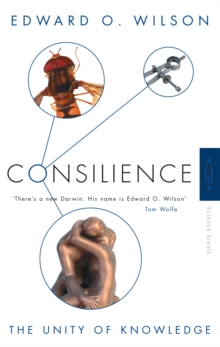 Consilience : The Unity of Knowledge
Paperback
Description
In this groundbreaking new book, one of the world's greatest living scientists argues for the fundamental unity of all knowledge and the need to search for what he calls consilience, the composition of the principles governing every branch of learning. Edward O Wilson, the pioneer of sociobiology and biodiversity, once again breaks out of the conventions of current thinking. He shows how our explosive rise in intellectual mastery of the truths of our universe has its roots in the ancient Greek concept of an intrinsic orderliness that governs our cosmos. It is a vision that found its apogee in the Age of Enlightenment, then gradually was lost in the increasing fragmentation and specialisation of knowledge in the last two centuries. Professor Wilson shows why the goals of the original Enlightenment are surging back to life, why they are reappearing on the very frontiers of science and human scholarship, and how they are beginning to sketch themselves as the blueprint of our world.
Information
Format: Paperback
Pages: 384 pages
Publisher: Little, Brown Book Group
Publication Date: 04/11/1999
Category: Popular science
ISBN: 9780349111124
Free Home Delivery
on all orders
Pick up orders
from local bookshops
Reviews
Showing 1 - 1 of 1 reviews.
Review by Jewsbury
16/06/2015
This book is a lecture on the unity and connectivity of all academic knowledge. In many ways this is a subterranean idea – only half appreciated by most people who have detailed knowledge of a small number of fields. Hence in our fractured world, this book promotes conciliation as well as consilience. It also involves a cry for greater knowledge of science by everyone. Wilson, a theoretical biologist, makes several assertions: science is driven by curiosity not politics; significant progress is measured by advances in theoretical understanding; biology is more complex than physics; the physical sciences are materialistic and the most basic; and there must be laws of complexity to explain evolutionary development. He then decides that: all science is materialistic; minds are consequences of informational processes within material brains; our brain structures and capabilities are relics of the Stone Age; and free will is an illusion. It is an entertaining and thought provoking book – a pleasure to read. Yet a non-scientist might fail to distinguish between plausible and deductive conclusions.