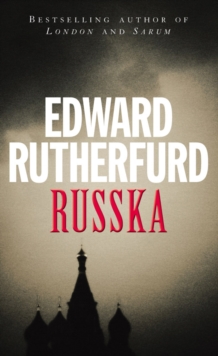 Description
In this vast and gorgeous tapestry of a novel, serf and master, Cossack and tsar, priest and Jew are brought together in a family saga which unrolls through centuries of history to reveal that most impenetrable and mysterious of lands - Russia. Through the life of a little town east of Moscow in the Russian heartland, Edward Rutherfurd creates a sweeping family saga from the baffling contradictions of Russia's culture and her peoples - bleak yet exotic, brutal but romantic, land of ritual yet riddled with superstitious fears. From Russia's dawn and the cruel Tatar invasions to Ivan the Terrible and the wild Cossacks, from Peter, Catherine and the days of War and Peace to the drama of the Revolution and the extraordinary events of today - here is Russia's story in a spellbinding novel - history recreated with breathtaking detail and passion.
Information
Format: Paperback
Pages: 1024 pages
Publisher: Cornerstone
Publication Date: 04/06/1992
Category: Historical fiction
ISBN: 9780099635208
Other Formats
EPUB from £3.99
eAudiobook MP3 from £29.36
Free Home Delivery
on all orders
Pick up orders
from local bookshops
Reviews
Showing 1 - 2 of 2 reviews.
Review by aapjebaapje
16/06/2015
Another one of the same. Sarum and The Forest, and now Russka. I do like the format but i did get a bit fed up three quarters of the way through.The author constantly alludes to things which are about to happen in the next scene e.g. "Afterwards, she could never explain to herself how it was that the madness had seized her..." or "He was bound to have got into trouble sooner or later. And as Olga reminded Alexis, one didn't have to do much to be in hot water these days". This put me on tenterhooks and instead of relaxing with this book I was constantly waiting for the sword of Damocles to fall on the poor unfortunate whos turn it was in that part of the story.However, and it s a big however - I shall never see Russia and its surrounding lands in the same way again. I have an understanding of the country's history and thereby, a much better understanding of its present. Although I did get bogged down by page 700 (who can blame me) I still want to get starting on Edward Rutherford's London as soon as I've finished the frothy historical novel I've just started (to give my brain and my blood pressure a rest).
Review by charlie68
16/06/2015
A good book on the history of Russia, although at times quite poorly written. The revolution gets a huge chapter but still doesn't really scratch the surface. Stalin gets a wafer thin chapter, when he's very important figure in Russian history. Edward Rutherfurd is in the same vein as James Michener although I think Michener is the better writer by far