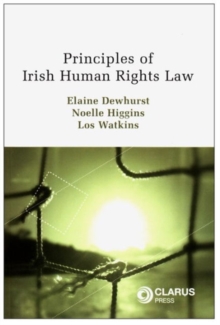 Principles of Irish Human Rights Law
Paperback / softback
Description
As part of the successful "Principles" series, Clarus Press has published Principles of Irish Human Rights Law: the first student textbook in Ireland dedicated to the direct comparison of the Irish and European systems for the protection of human rights.
Designed and written specifically for students of human rights law, the book discusses and analyzes each key 'human right' in turn.
Each right is examined through the three primary human rights instruments: the Irish Constitution, the European Convention on Human Rights (ECHR), and the Charter of Fundamental Rights.
Each instrument is examined and explained, giving an overview of the particular right, discussing and analyzing in which situations that the right is engaged, and including an examination of situations which constitute an interference with the right and what justifications may arise for such interferences.
Principles of Irish Human Rights Law examines the often-neglected area of procedural issues, including the initial application of human rights instruments in Ireland, together with their territorial and extra-territorial jurisdiction.
In addition, the book looks at the effect of the Charter of Fundamental Rights together with the future of the Irish Constitution and the ECHR.
This book is a must for all students of human rights law and related subjects.
It will also be an invaluable resource for all lawyers requiring a reference to human rights issues as a comprehensive yet accessible text aiding clearer understanding of the application of human rights in Ireland.
Free Home Delivery
on all orders
Pick up orders
from local bookshops