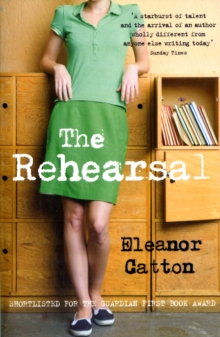 Description
A high-school sex scandal jolts a group of teenage girls into a new awareness of their own potency and power.
The sudden and total publicity seems to turn every act into a performance and every platform into a stage.
But when the local drama school decides to turn the scandal into a show, the real world and the world of the theatre are forced to meet, and soon the boundaries between private and public begin to dissolve. "The Rehearsal" is an exhilarating and provocative novel about the unsimple mess of human desire, at once a tender evocation of its young protagonists and a shrewd expose of emotional compromise.
Information
Format: Paperback
Pages: 320 pages
Publisher: Granta Books
Publication Date: 01/02/2010
ISBN: 9781847081391
Free Home Delivery
on all orders
Pick up orders
from local bookshops
Reviews
Showing 1 - 4 of 4 reviews.
Review by Mumineurope
16/06/2015
Could not really get into it, did not engage me
Review by Yarrow
16/06/2015
This was a really interesting read, and I particularly enjoyed the characterisation of the competitive friendships between teenage girls, which rang very true for me. I also really liked the blurring of the truth and of the characters perception of the truth all the way through, but I resented having to dig through so many layers of literary cleverness to get to the plot underneath, and having finished the book, I'm still figuring out exactly what happened.
Review by nigeyb
16/06/2015
I read this book for my book group. Or rather I tried. I came to it having just finished "Sword Of Honour" by Evelyn Waugh. The extreme contrast did not help the experience. One book, a masterpiece borne out of a global conflict, the other an unfathomable enigma borne out of a scandal in a girl's school. One felt profound and insightful, the other experimental and confusing. My initial impression was that the book was intriguing. Here's the saxophone teacher addressing a mother: "I require of all my students, that they are downy and pubescent, pimpled with sullen mistrust, and boiling away with private fury and ardour and uncertainty and gloom ... If I am to teach your daughter, you darling hopeless and inadequate mother, she must be moody and bewildered and awkward and dissatisfied and wrong." Intrigue soon gave way to frustration. I lack the patience and the inclination to ponder the improbable, non-linear plot. I also lack the patience to work out what is real, what is imagined, and what it might all mean. The insurmountable hurdle was that I just could not care less about any of the characters. About halfway through I resorted to reading the plot summary on Wikipedia. Never a good sign. At that point, I started to skip ahead. I was invariably struck by the simple and accessible quality of the writing, but also how this was married to a tedious "plot" and dull characters. Plenty of people love this book. Some of the scenes are intriguing, and the book is very well written, ultimately though its lack of credibility and coherence was distracting and annoying. I suspect the extent to which a reader might enjoy this book would largely depend on his or her tolerance for ambiguity.
Review by lauralkeet
16/06/2015
I had high hopes for Eleanor Catton's debut novel, but unfortunately after a strong start it began to bog down, and I found myself skimming the last third just hoping something interesting would happen. The book opens in the aftermath of a sex scandal between a high-school girl and her jazz teacher. The scandal is retold through events that occur in the classroom, as well as in private music lessons with a different music teacher. At the same time, a young man named Stanley begins studying at a prestigious acting school, and the students decide to stage a dramatization of the sex scandal. These story lines intersect when Stanley meets the sister of the girl involved in the scandal. Catton is a strong writer, serving up strong, thought-provoking passages about sexual abuse and sexual awakening. Like her prize-winning <i>The Luminaries</i>, this novel has a unique structure, but in this case it felt like the author was trying too hard to impress. The thread involving the private music teacher was most perplexing to me -- what was she trying to do there? It just didn't work, and the two-dimensional characters didn't help, either.Still, it was interesting to read the first work by a now well-known author.