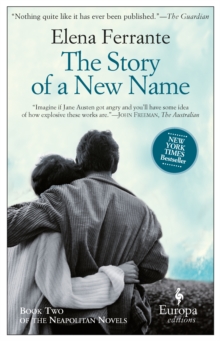 The Story of a New Name : Book 2
Paperback
Information
Format: Paperback
Pages: 480 pages
Publisher: Europa Editions
Publication Date: 03/09/2013
ISBN: 9781609451349
Free Home Delivery
on all orders
Pick up orders
from local bookshops
Reviews
Showing 1 - 5 of 5 reviews.
Review by RandyMetcalfe
16/06/2015
Picking up almost immediately from where the first novel of Ferrante's Neapolitan trilogy concluded, <i>The Story of a New Name</i> traces the lives of Elena and her friend Lila from ages 16 to 23. Superficially they are on utterly disparate trajectories. Lila, married at 16, undergoes humiliation after humiliation, beatings and abuse from her husband, scurrilous gossip and innuendo from relatives and neighbours, and financial ruin. A brief summer of adulterous love spirals out of control and leaves Lila with an infant son, no husband, no lover, and, ultimately a need to re-establish her name as Cerullo, scrubbing away the years she has had to endure as Signora Carracci. By contrast, Elena goes from one academic triumph to the next, obtaining both her high school diploma, and, after a gaining a scholarship to the university in Pisa, eventually her university diploma as well. To top it off she writes a much-praised short novel that is published not long after she finishes at the university. But we would be wrong to think that Elena and Lila's lives are any less entangled than they were in their first youth. The 'Elena Greco' on the cover of her novel is as much a constructed name and identity for Elena as the, now, 'Signora Cerullo' is for Lila.I couldn't help thinking of the relationship between Elena and Lila as comparable to an elaborate dance. Ferrante has structured their lives in such an intricate formal pattern (even their sexual relations are matched), yet the wonder is that the novel never once becomes forced or contrived. Each step in the dance seems both compelled and entirely free. It is a so well done that it can take your breath away.Ferrante's writing matches her two protagonists. At times it becomes almost formal and argumentative, as when the increasingly educated Elena tries to think through her emotional confusion. At other times it soars with near poetic and existential angst. And yet again it can be as basic as the most basic functions of life in the poorer neighbourhoods of Naples. Riveting. The only disappointment is that I will now have to wait impatiently for the final volume to appear. Highly recommended.
Review by EBT1002
16/06/2015
This is the second in the planned trilogy of "Neapolitan Novels" that tell the story of the friendship between Elena (our narrator) and Lila. Growing up in a working class Naples neighborhood in the 1950s and '60s, the two have an intense and tumultuous friendship as they navigate boyfriends, education (or not), marriage (or not), and adulthood. Lila marries young while Elena continues to pursue her education, neither turning out to be an easy road. The novel is peopled by an assortment of characters, each struggling to make a living and meaning without straying too far from the neighborhood or the mores tightly woven throughout its streets and tenements. Ferrante normalizes domestic violence and explores the territory of marital fidelity and filial loyalty -- and the consequences when the two are pitted against one another. Elena and Lila love one another, yes, and they each make sacrifices in order to ensure the other's happiness. But they also compete fiercely and harbor jealousies based on childhood notions of fairness and happiness. As Elena summarizes: "I went away in great agitation. Inside was the struggle to leave her, the old conviction that without her nothing truly important would ever happen to me, and yet I felt the need to get away, to free my nostrils of that stink of fat. After a few quick steps I couldn't help it, I turned to wave again."Ah, the ambivalence of attachment. Ferrante is also exploring the fidelity of memory: "Is it possible that even happy moments of pleasure never stand up to a rigorous examination? Possible." Still, I was never sure what the author wanted me to get out of her tale. I never cared much what happened to Elena or Lila and I was only rarely moved by the writing or the story. For me, this was a slog; it had enough moments of brightness to earn 2.5 stars. And I know this novel has gotten rave reviews. My bookstore-buyer-buddy can hardly wait for the third Neapolitan novel to be released. He has shared with sparkling eyes that the title will be something like "Those that stay and those that go." Okay. Whatever. I won't be reading it.
Review by Booktrovert
16/06/2015
dang... this was a great read! i am finding, now that i am two books into the three book series, that ferrante is a very powerful writer. yet she does it in such a simple way. there is such strength in her prose. the grammatical or stylistic peculiarities that had me curious in book one (My Brilliant Friend) were really not an issue in the story of a new name. the flow was cleaner and sharper. there is such a wonderful way of knowing and of insight ferrante offers to readers - and she runs the emotional spectrum too. while outward expressions of happiness are extremely rare in the novel ("Is is possible that even happy moments of pleasure never stand up to a rigorous examination?"), the sense of rawness in this story had me feeling angry, sad, hopeful, and inspired. ferrante lays bare these characters in a way that is very relatable and so many aspects of human nature are examined. while the story has had me wondering about its meta-ness (pen name of 'elena', writing a character named 'elena'), the meta fiction aspect of the novel became a real treat for me in the later part of the story. i am quite curious about the real author behind the ferrante name, but i am also not sure it really matters, knowing their identity. to the writer, though, i am very grateful for their talents.near the end of the story the character elena says: "Her life had overwhelmed me and it took days for me to restore clear outlines and depth to mine..." reading ferrante is giving me the same feeling. once again there is a rather cinematic ending in this book... so on to book 3: Those Who Leave and Those Who Stay.
Review by RidgewayGirl
27/08/2015
The second book in Elena Ferrante's Neapolitan series, picks right up after <i>My Brilliant Friend</i> ends. The books are really all part of one longer story and so I'm reading them all in a row. This segment is even better than the first, beginning as it does with Lila's marriage and Lena's subsequent difficultly in taking her education seriously, with her best friend married at sixteen. Both girls mature into women and their lives diverge sharply. It's during this handful of years that the dominant traits of both girls, Lila's contrarian attitude and her need to push against the tight restrictions governing a new wife's life in Naples in the 1960s, as well as Lena's dogged diligence and her inability to speak out for what she wants, have permanent and long-lasting effects on their lives. It's in this book that Lena begins to shine and for her horizons to expand beyond the working class neighborhood they both grew up in, while Lila sees the walls closing in and all the fine clothes and power that goes with having some money in a neighborhood where most residents are mired in poverty isn't of the slightest comfort. I'm falling more and more in love with the stories of these two strong women trying to find their way in a world that is both difficult and stuck in rigid gender roles. I have already started the third book.
Review by crazeedi73
02/03/2016
This one was even better than the first one! I can't wait to read the next one. Highly recommend this series. Very unique style and writing.