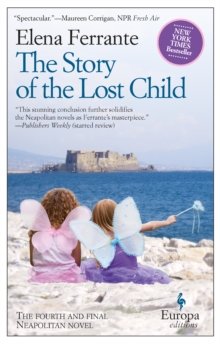 The Story of the Lost Child
Paperback
Description
One of the major publishing events of 2015, this dazzling saga of two women - the brilliant Elena and the fiery, uncontainable Lila - firmly establishes the Neapolitan Quartet as perhaps the most significant work to date of the 21st century. Life's great discoveries have been made, its vagaries and losses suffered. But, throughout it all, their friendship remains the gravitational centre of their lives. The unmissable finale to a great literary achievement.
Information
Format: Paperback
Pages: 480 pages
Publisher: Europa Editions
Publication Date: 01/09/2015
ISBN: 9781609452865
Free Home Delivery
on all orders
Pick up orders
from local bookshops
Reviews
Showing 1 - 3 of 3 reviews.
Review by Booktrovert
09/10/2015
hmmm..... i really have to think about this some more. i am not sure if my mood has affected the read (i've been in a huge reading slump and everything feels tainted by this lately) - am i feeling disappointed in the book itself? or disappointed because it's all over now? i've been rolling the book around in my brain since finishing it last evening so will try and focus my thoughts a bit better before writing a review here.overall, though -- loved this series from ferrante. the whole thing is an amazing accomplishment and i do feel the books will stand the test of time and be loved and discussed for years to come.
Review by RandyMetcalfe
10/11/2015
Once again, Elena Ferrante brings the intimate friendship of her principle characters, Elena and Lila, to life, though much of what occurs in this final novel in her Neapolitan series is harmful to their friendship. Elena rushes into her relationship with Nino Sarratore, all the the while trying to suppress her suspicion of Lila's disapproval. Indeed, much of what Elena does and thinks and even writes in her growing career as a novelist and intellectual is shaped and conditioned either by Lila's explicit critique or by Elena's imagined version of what Lila might say. And so Elena acts both for and against her childhood friend, desperate to attain some form of autonomy even whilst she foregoes it in her anxiety. Elena has moved back to Naples, though not the old neighbourhood, with her two daughters. And it is motherhood comes to dominate the themes here as first Elena and then Lila herself become pregnant. Their shared condition is emblematic of just how entwined their lives have been throughout whether they were conscious of it or not.Eventually Elena moves with her now three daughters into the flat above Lila's in the old neighbourhood. Here the ties with the past are strong. But so too are the ties with elements from the earlier three novels. Ferrante weaves the stories together so tightly that everything in the current novel feels as though it might have been there in the very first one, just hidden around a corner. The lives of Elena and Lila, their lovers and children, and their friends from the old neighbourhood breathe with fire. And once that fire catches you, it is nearly impossible to put the book down.Ferrante's Elena narrates the whole of this volume but she is not spared. Even when she is most critical of her friend, the reader sees through her fears to the self-doubt at its root. While not an unreliable narrator, we come to see her view as slanted, as given to jealousy and pettiness as any other, and so she becomes, unsympathetically, even more believable. It is a remarkable balancing act. By the end, I found myself reading ever more slowly, fearing with each page the inevitably loss of this brilliant friendship. Fortunately, I can start again almost immediately, which is surely one of the great blessings of novels as fine as these. Highly recommended.
Review by Tonstant.Weader
27/01/2016
The Story of the Lost Child is the final of the Neapolitan Novels, a marvelous tetralogy by Elena Ferrante that tells the decades long story of a female friendship. Through these four novels, Elena Ferrante has told the life story of Elena (Lenú) Greco and Raffaella (Lina) Cerullo from their childhood to old age and through those sixty some years, she also told the story of their neighbors, of Naples, and of Italy.Elena Greco is the narrator, telling you the story of her life-long relationship with Lina. The first novel began when the final novel finishes, with Lina disappearing and Elena not being terribly worried about it. In more than one way, this fourth novel brings us back to the first, closing the circle on this sixty year friendship between Elena and Lina.Like the other three novels in this series, the writing is simple, direct and confessional. Ferrante is not trying to write epigrammatic sentences or highly stylized paragraphs that will be copied and pasted onto pretty pictures and shared in memes for the rest of the digital era. She is a naturalistic writer, her words seem like a conversation sometimes with the reader and sometimes with herself. Taken as a whole, this tetralogy is an amazing accomplishment, but even more stunning is the ability of each work to stand alone, a cohesive story in itself.Elena and Lila are fascinating. Two brilliant women, Elena, the well-educated one, is a successful novelist and political thinker who writes opinion pieces, is on television discussion panels and active in literary and political circles of the elite. Lila never went past fifth grade, married young, worked in brutalizing jobs and struggled for years for self-determination and independence and dignity. And yet, Elena always seems to envy Lila and we can understand why. Lila has a life force that burns bright – with ambition, pride, anger, justice, passion. She is always living. Elena often finds inspiration in Lila's ideas, too, though sometimes it seems that Lila thinks and Elena writes.And Lila envies Elena sometimes, while also admiring her, pitying her, and feeling contempt for her. The one thing that they don't feel for each other is indifference and their life is a constant orbit, sometimes closers, sometimes far apart.This last novel tells of their mid life and later years. We learn of the great tragedy that is mentioned in this first novel and see the connections that Elena makes with that past. This life is as tumultuous and violent as their younger years, Naples is just as corrupt and it seems that everything is an endlessly repeating cycle.5pawsI enthusiastically recommend the entire series. Many series begin strong and peter out by the end, but this feels like it was really just one book, written all of one piece, and then just broken up into four in order not to intimidate us from reading it. I love these two women and will miss them now the book is done. I want more.