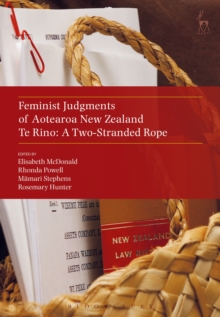 Feminist Judgments of Aotearoa New Zealand : Te Rino: A Two-Stranded Rope
Hardback
Description
This edited collection asks how key New Zealand judgments might read if they were written by a feminist judge.
Feminist judging is an emerging critical legal approach that works within the confines of common law legal method to challenge the myth of judicial neutrality and illustrate how the personal experiences and perspectives of judges may influence the reasoning and outcome of their decisions.
Uniquely, this book includes a set of cases employing an approach based on mana wahine, the use of Maori values that recognise the complex realities of Maori women's lives.
Through these feminist and mana wahine judgments, it opens possibilities of more inclusive judicial decision making for the future. `This project stops us in our tracks and asks us: how could things have been different?
At key moments in our legal history, what difference would it have made if feminist judges had been at the tiller?
By doing so, it raises a host of important questions.
What does it take to be a feminist judge? Would we want our judges to be feminists and if so why?
Is there a uniquely female perspective to judging?'Professor Claudia Geiringer, Faculty of Law, Victoria University of Wellington`With this book, some of our leading jurists expose the biases and power structures that underpin legal rules and the interpretation of them.
Some also give voice to mana wahine perspectives on and about the law that have become invisible over time, perpetuating the impacts of colonialism and patriarchy combined on Maori women. I hope this book will be a catalyst for our nation to better understand and then seek to ameliorate these impacts.'Dr Claire Charters, Associate Professor, Faculty of Law, University of Auckland`The work is highly illuminating and is critical to the development of our legal system ...
It is crucial, not only for legal education, so that students of the law open their minds to the different ways legal problems can be conceptualised and decided.
It is also crucial if we are going to have a truly just legal system where all the different voices and perspectives are fairly heard.'Professor Mark Henaghan, Dean of the Faculty of Law, University of Otago`I believe this project is particularly important, as few academics or researchers in New Zealand concentrate on judicial method.
I am therefore hopeful that it will provoke thoughtful debate in a critical area for society.'The Honourable Justice Helen Winkelmann, New Zealand Court of Appeal
Information
Format: Hardback
Pages: 576 pages
Publisher: Bloomsbury Publishing PLC
Publication Date: 30/11/2017
Category: Feminism & feminist theory
ISBN: 9781509909711
Free Home Delivery
on all orders
Pick up orders
from local bookshops