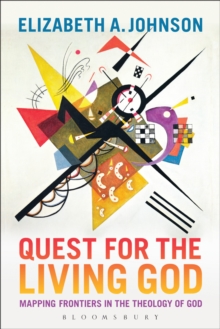 Quest for the Living God : Mapping Frontiers in the Theology of God
Paperback
Description
Concerned with new frontiers in our understanding of God, this book aims to spread the light of theological knowledge, 'ever ancient, ever new'. 'Since the middle of the twentieth century,' writes Elizabeth Johnson, 'there has been a renaissance of new insights into God in the Christian tradition.
On different continents, under pressure from historical events and social conditions, people of faith have glimpsed the living God in fresh ways.
It is not that a wholly different God is discovered from the One believed in by previous generations.
Christian faith does not believe in a new God but, finding itself in new situations, seeks the presence of God there.
Aspects long-forgotten are brought into new relationships with current events, and the depths of divine compassion are appreciated in ways not previously imagined.' This book sets out the fruit of these discoveries.
The first chapter describes Johnson's point of departure and the rules of engagement, with each succeeding chapter distilling a discrete idea of God. Featured are transcendental, political, liberation, feminist, black, Hispanic, inter religious, and ecological theologies, ending with the particular Christian idea of the one God as Trinity.
Information
Format: Paperback
Pages: 256 pages
Publisher: Continuum Publishing Corporation
Publication Date: 21/07/2011
Category: Christian theology
ISBN: 9781441174628
Free Home Delivery
on all orders
Pick up orders
from local bookshops
Reviews
Showing 1 - 1 of 1 reviews.
Review by bunniehopp
16/06/2015
Elizabeth A. Johnson has presented a scholarly and very readable look at the human experience and understanding of God during the last fifty to sixty years. Archaeology indicates that for 100,000 years man has had a sense of religion. Regardless of name, there is the acknowledgement that "the Holy" is beyond our imagination and ability to know; totally outside our control; and extremely attractive to us. She quotes Karl Rahner's prayer: "You must adapt Your word to my smallness, so that it can enter into this tiny dwelling of my finiteness--the only dwelling in which I can live--without destroying it. If you should speak such an "abbreviated" word, which should not say everything but only something simple which I could grasp, then I could breathe freely again. You must make your own some human word, for that is the only kind I can comprehend. Don't tell me everything that You are; don't tell me of Your Infinity--just say that You love me, just tell me of Your Goodness to me."(Johnson, 2008, p. 39) This prayer seems to hold the theme of her book. Elizabeth Johnson will explore an "abbreviated" word about God so that the reader will know Him just a bit better.Johnson explores the huge problem of evil and how to understand it in relation to God's sovereignty. She points out God's preferential option for the poor. The unfortunate limitations of imagining God as an old white man, even if father, is a constantly recurring handicap to understanding and encountering the God who is love.As each chapter unfolds, the reader is introduced to a new and unique understanding of God and our relationship to God and our connection to the people and world around us. There are aspects of this exploration of how we know God that will feel familiar to the reader and there are other presentations which will open the reader's mind to new and enriching reflections. It is wonderful to explore the traditions of knowing God with which one is familiar and expand it with other understandings. This study helps the reader appreciate how little we grasp of the mystery that is God. I would vigorously encourage anyone and everyone to delve deeply into Elizabeth Johnson's Quest for the Living God.