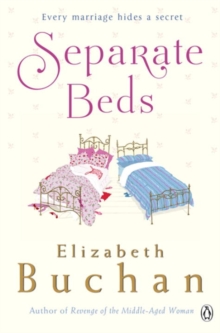 Description
Separate Beds is a poignant and compelling novel from Elizabeth Buchan.
Annie and Tom's marriage is in mid-life crisis. They seem to have everything - a lovely home, rewarding jobs and three healthy grown-up children - but, beneath the surface, all is not well.Beneath the surface lies a secret guilt which ensures that whilst they live under the same roof, they sleep in separate beds.
Then, as recession strikes, Tom comes home one evening and drops a bombshell that threatens to destroy everything they have left.
Will he and Annie be able to leave the past behind and weather this storm together? Or will it push them further apart? Annie is about to discover that out of disaster springs the faint rays of hope.
As her family rallies together, for the first time in years, her home is filled with people, conversation, tears - and laughter. And, little by little, Annie and Tom start to open up to one another about the terrible, painful truth they have lived with all these years.
Soon a new, unexpected future starts to take shape as Annie and Tom are offered a second chance at happiness.
But will they take it?Separate Beds is a poignant and compelling novel about the little acts of kindness that can reunite a family and rekindle a marriagePraise for Elizabeth Buchan:'Gorgeously well-written - funny, sad, sophisticated' Independent'Beautifully observed, with the insight and humour that one has come to expect from the author' Times'Compelling, compassionate, and aglow with moments of laugh-or-cry humour' Mail on Sunday'Buchan is a cut above the rest' Sunday MirrorElizabeth Buchan is the author of twelve novels, including the bestselling and prize-winning Revenge of the Middle-Aged Woman, That Certain Age and The Second Wife, all of which received rave reviews.
She lives in London with her husband and children.
Information
Format: Paperback
Pages: 464 pages
Publisher: Penguin Books Ltd
Publication Date: 02/09/2010
ISBN: 9780141019895
Free Home Delivery
on all orders
Pick up orders
from local bookshops
Reviews
Showing 1 - 1 of 1 reviews.
Review by writestuff
16/06/2015
Annie and Tom share a house in London, but not a bed. Ever since their eldest daughter, Mia, huffed out five years previous with radical boyfriend in tow, things have never been the same. Annie blames Tom; Tom immerses himself his job with the BBC; neither is willing to bridge the ever widening gap. But their silent domain is about to get a lot noisier. Tom loses his job and seems to have nothing to do but putter around the house lamenting his bad luck. Youngest daughter, Emily, lives upstairs while she attempts (unsuccessfully) to write a novel. Then Tom's outspoken mother, Hermione, moves in when the funds to pay for care at the nursing home dry up. And when son, Jake, finds himself without a wife and solely responsible for his young daughter, he shows up on Tom and Annie's doorstep seeking refuge. With all the bedrooms taken up, Tom is forced to move back into the spousal bedroom…and confront the separation head on.Elizabeth Buchan's latest novel once again explores middle-age relationships, as well as parenting, with humor and insight into how love changes over time, especially if it is not nurtured. Emily, perhaps, best captures the sadness which accompanies estrangement when she muses that love "<i>had nothing to do with reason and everything to do with mayhem, which left you sad and damaged.</i>" But, although the book takes a hard look at love, it also allows for redemption and healing.Another major theme of the novel revolves around the recent economic crisis and the loss of security and stability. All the characters are dealing with loss of some sort, and the economic crash is symbolic of the fear and insecurity that comes with loss.I didn't love the characters in <i>Separate Beds</i> – Tom was whiney, Annie almost too pulled together, Jake was weak, and Emily came off as a bit of a spoiled brat. But I did enjoy Hermione – a fiercely independent woman who must now depend on others as her health declines.<i>Through the glass, she appeared more diminished than he remembered from the last visit. When he was small, she had always been whippet thin, but strong, and a Turkish cigarette would have been in evidence when she played her cards (smoked fastidiously down to the stub).</i> – from Separate Beds, page 71 -The novel is not without its flaws – namely the glacially slow pace of the plot. Buchan includes the minutest of details of the Nicholson family's lives and depends on their daily interactions with each other to carry the story. Most of the characters are unhappy or struggling with the changes in their lives, but inertia seems to claim them all – mostly they internalize their struggles and remain coldly polite with each other. There were times in the novel I wanted to see more emotion.I thoroughly enjoyed Buchan's previous novel <i>Revenge of the Middle-Aged Woman</i>, so I was surprised I did not love <i>Separate Beds</i>, which left me oddly unsatisfied at its conclusion. That said, I think this is a novel which will appeal to women in their middle years who may see themselves in Annie, a competent woman who struggles to balance her role as wife and mother, and wonders why she is not happier.