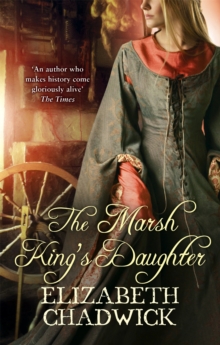 The Marsh King's Daughter
Paperback
Description
Despite having signed the Magna Carta and made promises to mend his ways, there is still great dissatisfaction with King John's rule. Among the rebellious nobles is young Nicholas de Caen. While fighting John's troops, he is captured, but during the trip back to be questioned, the treacherous marshes cause trouble and Nicholas and King John's treasure are both lost. Nicholas is injured and ends up at a nunnery where he is nursed by Miriel of Wisbech.
News of the lost treasure comes to them and the nuns realise the young man they are looking after probably knows something about this...
Information
Format: Paperback
Pages: 416 pages
Publisher: Little, Brown Book Group
Publication Date: 02/11/2006
Category: Historical fiction
ISBN: 9780751539400
Free Home Delivery
on all orders
Pick up orders
from local bookshops
Reviews
Showing 1 - 2 of 2 reviews.
Review by Kasthu
16/06/2015
Miriel is an unruly, headstrong girl, whose stepfather places her in the convent of St. Catherine. While there, she comes into contact with Nicholas de Caen, a rebel against King John. While still a prisoner, Nicholas rescues John's infamous treasure from the swamp, and attempts to run away—accidentally (or not) taking Miriel with him. Their adventures, together and apart, take place over the course of about five years, as hate eventually turns to love.It's true that Elizabeth Chadwick's books, especially those about fictional characters, tend to follow a certain pattern: two would-be lovers are torn asunder by circumstances beyond their control, and they must battle against the odds to eventually return to one another. The main female character usually is very headstrong., and there's often a nails-on-a-chalkboard bad guy thrown in to complicate the plot. The Marsh King's Daughter is a little different, however; the excitement in this book lies in the fact that Nicholas and Miriel don't know that they're attracted to one another—in fact, they have every reason to hate the other! So it's this tension that gives the novel that extra excitement. I've described Elizabeth Chadwick's heroines as headstrong, which usually equates to modern; not so with Chadwick's female characters. I never get the feeling that Miriel, or even Nicholas or the other characters, never stepped out of the thirteenth century.Elizabeth Chadwick is also extraordinarily skilled at recreating the feel of the thirteenth century. She's mostly known for her novels about the twelfth century, but she depicts this period of time just as well as she does the other. With Chadwick's novels, you're guaranteed a historically accurate read, without being bogged down in too much overwhelming detail. There's only so much that anyone can really know" about people or places from 700 years ago, but Elizabeth Chadwick really knows how to pull the pieces together. In all, this is another good, solid novel from Elizabeth Chadwick. I've only got four novels left of hers to read (including the forthcoming To Defy a King) and I'm really trying to parcel them out!
Review by Sarah_Gruwell
27/01/2016
Another environment lush, character vivid, and story intense work from Elizabeth Chadwick! Not only does this author spin a good yarn, but she transports her readers to another world with problems, dilemmas, and battles all its own, and yet a world that is very much like our own as well. History comes alive in her hands, and that's one of the main reasons I keep coming back to her, again and again.I loved how the author concentrated on the middle class of medieval society in this work, not the lords and ladies in their castles and keeps. We got to see how the business men and women of that era lived and worked and loved. The world of the passionate wool trade and the surprisingly-political common nunneries came alive. I think I prefer the works that concentrate on the "little people" rather than the nobles sometimes as they become more relatable to people nowadays. They're trying to earn a living, provide for their families, and get on with their lives, just like we do in our modern society. Elizabeth Chadwick just brings that struggle to vivid life.I actually really liked her female lead in this book, as well. Unlike some of her other female characters which can be thought of a bit weak, Miriel is a woman with her own ambitions, plan, and ideals. She's not waiting for her "knight in shining armor" to come rescue her from her not-wanted-nunnery fate; heck no, she sees the opportunity the nunnery's unexpected visitor provides and negotiates her way out. And while she does periodically fall for the pitfalls of lust and passion which give some serious kinks in the road of life, Miriel rolls with the punches and eventually comes out on top with career, love, and family, all because she had the brain and wits to think for herself and not wait for life to happen.This novel kept me reading from page to page nonstop, not wanting to stop for piddely things like sleep and food. I really enjoyed this addition to my Elizabeth Chadwick library and can't wait to dive into the rest of my collection.