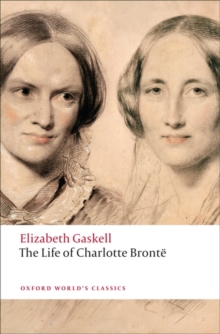 The Life of Charlotte Bronte
Paperback
Description
'It is in every way worthy of what one great woman should have written of another.' Patrick Bronte Elizabeth Gaskell's The Life of Charlotte Bronte (1857) is a pioneering biography of one great Victorian woman novelist by another. Gaskell was a friend of Charlotte Bronte, and, having been invited to write the offical life, determined both to tell the truth and to honour her friend. She contacted those who had known Charlotte and travelled extensively in England and Belgium to gather material. She wrote from a vivid accumulation of letters, interviews, and observation, establishing the details of Charlotte's life and recreating her background. Through an often difficult and demanding process, Gaskell created a vital sense of a life hidden from the world. This edition is based on the Third Edition of 1857, revised by Gaskell. It has been collated with the manuscript, and the previous two editions, as well as with Charlotte Bront"'e's letters, and thus offers fuller information about the process of composition than any previous edition. ABOUT THE SERIES: For over 100 years Oxford World's Classics has made available the widest range of literature from around the globe. Each affordable volume reflects Oxford's commitment to scholarship, providing the most accurate text plus a wealth of other valuable features, including expert introductions by leading authorities, helpful notes to clarify the text, up-to-date bibliographies for further study, and much more.
Information
Format: Paperback
Pages: 624 pages
Publisher: Oxford University Press
Publication Date: 25/06/2009
Category: Biography: literary
ISBN: 9780199554768
Other Formats
Paperback from £9.15
EPUB from £1.07
Free Home Delivery
on all orders
Pick up orders
from local bookshops
Reviews
Showing 1 - 3 of 3 reviews.
Review by esoldra
16/06/2015
As with all family friends there is some degree of bias in a story that they will tell pending on who they preferred in the family. I have read a good number of biographies on the Bronte sisters and Gaskell's does portray a poor representation of the father of the Bronte Sisters and this is based on personal dislike as opposed to fact. But on the flip side of this you get a context and a tone that you do not from other Bronte biographers, in that Gaskell personally knew Charlotte, knew her sisters and had experience of her life at the Parsonage, and for that reason it is essential reading for those wanting an insight into the life at the Parsonage. As those who visit the Parsonage on literary pilgrimages know there is very much a lack of detail in the museum itself and even fewer helpful guides. So prior to visiting the Parsonage this is an ideal companion.
Review by nordie
16/06/2015
First published not long after Bronte's death - Gaskill was a contemporary and a friend - the first edition suffered controversy, as many of the people referenced were still alive, and some objected to their inclusion. This edition is the 1st edition, with plenty of detail in the appendix to detail the differences with the changed 3rd edition.Volume 1 details Bronte's younger years; with much contextual narrative as to both the Yorkshire people's personality type and that of the immediate family; the death of some of her siblings, and her mother at an early age; the solitude the family seemed to prefer and the ill health they all seemed to suffer from. The education is also covered - Charlotte's early schools giving inspiration for Lowood in Jane Eyre for instance. Time is also spent in Brussels learning French and German and provides yet more inspiration for those Bronte girls who were there (e.g. for "The Professor" and "Vilette".) [I am disappointed that this edition does not provide translation of those passages in French for those of us whose French is weak!]Volume 2 was much more interesting for me. This is the time that Jane Eyre (along with Wuthering Heights and Agnes Grey) is published. Less input now from Gaskell, with much of the Volume II provided by letters written by Bronte herself, and shows to some extent how she deals with the fame of having written such a book as Jane Eyre, along with dealing with all the gossip about whether the Bell family are male or female. At the same time she has to deal with her three remaining siblings dying in relatively quick succession (< 1 year) with Branwell having brought shame on the family due to his debts, drink and doomed affair with a married woman. [rumoured to be the inspiration of Causabon's stipulation that Dorothea should lose all money if she ever married Ladislaw]Her visits to London in particular are interesting, as you hear of her interaction with her contemporaries - Thackery, Dickens etc. Her comments on Jane Austen made me smile (paraphrased as: "Who is she? What's this Pride and Prejudice about then?"). In the absence of her siblings, and with her increasing fame, she also travels more, and sees more of friends and other "famous people". Her marriage to a curate that she had known for years and which was pitifully short is lightly covered in the final chapter. Her father objected to her marrying at all, which delayed the marriage for several years. The reason for the objections were never made clear in the book - I suspect Mr Bronte was still alive when the book was published - but I personally think by reading between the lines that as an old man used to having the almost explicit attention of his daughter didnt want to share her with anyone else.The marriage ended in her death within the year of the marriage, and was due to her suffering an ultimately fatal bout of ill health
Review by julie10reads
27/08/2015
Criticism and rumours were already circling by the time Charlotte Bronte died in 1855. To set the record straight, Bronte pere and Charlotte's husband of less than one year, Arthur Bell Nichollls, engaged Mrs. Gaskell, herself a famous novelist as well as friend in later life, to write the official biography. After serious research--including travelling to Brussels to interview the French teacher for whom Miss Bronte conceived a passionate attachment--Mrs. Gaskell produced a portrait of a small, underdeveloped woman typically dressed in sombre colours, intelligent, passionate--never in public--devoted daughter and all-round good Christian. Much of the data is presented through letters from friends and relatives, even some of Charlotte's own. I was surprised by the lack of "gothic" elements usually found in descriptions of Miss Bronte's (and her siblings') early life. Seemingly the Bronte noir meme is a later construction. I was also surprised by the accusation of "coarseness" attributed to her novels. When Currer Bell was revealed to be a woman, and unmarried, reviewers, male and female, deemed her passionate stories unsuitable and stemming from displaced sexual energy. I understand that if Miss Bronte had been married when Jane Eyre was published, the novel (and authoress) might have been better received.I think Charlotte Bronte was a classic INFJ (Myer Briggs type): the most important thing was to communicate the richness and passion of her inner life. This is borne out in records of her behaviour in society--quiet to the point of taciturn and dull, unless a subject close to her beliefs and principles arose at which point she could not prevent herself from joining in. Miss Bronte famously disliked the works of her close predecessor, Jane Austen, describing the stories as "on the surface" of life. Yet, Miss Austen's characters change, develop and usually become wiser whereas Jane Eyre or Lucy Snow experience no similar kind of growth. I believe this confirms my INFJ type attribution : like the author, Jane and Lucy always possess full consciousness and full personhood; their goal is to find a partner worthy of their inner life and passion. Think of young Jane confronting Aunt Reed.Whether or not Mrs. Gaskell hid details that would possibly detract from the portrait of the author as dutiful daughter and sole survivor of the Bronte siblings, does not affect the quality of her affection nor admiration for Charlotte.On a sad note, Mrs. Gaskell reveals that Charlotte was pregnant when she passed away on March 31, 1855.8 out of 10 Highly recommended to fans of Jane Eyre and Victorian fiction.
Also in the Oxford World's Classics series | View all